Beirut, Lebanon — Israel poured up to 10,000 armored troops into south Lebanon Tuesday, and separately sent commandos deep into the eastern Bekaa Valley where they raided a Hezbollah-run hospital and captured guerrillas during pitched battles, a major escalation of the three-week-old war.
The Israeli military confirmed the attack on the ancient city of Baalbek, about 80 miles north of Israel. It said troops, ferried in by helicopter, captured an unspecified number of guerrillas and all soldiers returned unharmed. The statement gave no other details.
The Baalbek raid was the deepest ground attack on Lebanon since fighting began 21 days ago.
The ferocity of the battles in the Bekaa Valley and across southern Lebanon and the determination of the Israelis to keep fighting quelled expectations for an early cease-fire, although U.S. Secretary of State Condoleezza Rice said an agreement on how to end the conflict was possible within days, not weeks.
Hezbollah's rocket attacks into Israel, meanwhile, diminished. Hezbollah fired just 10 rockets across the border Tuesday, well below an average of about 100 a day since fighting began.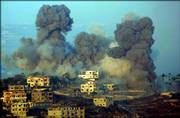 Early today, Hezbollah's chief spokesman Hussein Rahal told The Associated Press that Israeli troops landed near the Hezbollah-run Dar al-Hikma Hospital in Baalbek, about 10 miles from Lebanon's border with Syria.
Fighting between Israeli commandos and Hezbollah guerrillas around the hospital raged for more than four hours, and planes dropped flares over the city during the clashes, witnesses said.
They said at least five people were killed as Israeli warplanes staged more than 10 bombing runs around the hospital as well as on hills in east and north Baalbek where Hezbollah's Shiite supporters live.
Witnesses said the hospital was hit in an Israeli airstrike and was burning.
The fighting ended about 4 a.m.
U.N. action
On the diplomatic front, the U.N. announced Tuesday that nations willing to contribute troops to help stabilize south Lebanon will meet after all, and Secretary-General Kofi Annan urged governments debating Lebanon's future to put aside their differences to solve the conflict.
The meeting, now scheduled for Thursday, was scrapped Monday after France said there was no point in talking about peacekeepers now with the war continuing between Israeli troops and Hezbollah militants.
France, which has been mentioned as a possible leader of a peacekeeping force, wants an immediate halt to fighting between Israel and Hezbollah to pave the way for a wider peace. The United States wants any cease-fire to be part of a package of simultaneous steps, including the deployment of peacekeepers
Annan wants nations to lay the groundwork for a force, apparently so it can be deployed as quickly as possible once a political framework to end the fighting in Lebanon is settled.
Copyright 2018 The Associated Press. All rights reserved. This material may not be published, broadcast, rewritten or redistributed. We strive to uphold our values for every story published.