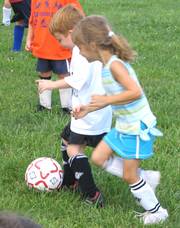 Call it a soccer family. Roland de Boer does.
He and his mother, Riny de Boer, coached a number of young soccer enthusiasts at the Kaw Valley Soccer Assn. Camp America II last week at Youth Sports Inc.
The soccer thread runs deep in the de Boer family. Roland's father was once the president of the KVSA. His brother, mom and dad were all certified referees at one point.
"It's just a soccer family," Roland de Boer, who also coaches at Perry-Lecompton High, said.
He said when his mom asked him to coach this camp with her, he didn't hesitate.
"'She needed some help with camp so I said 'OK," Roland said of how the conversation went when Riny asked for his help.
"It's a blast doing this camp with her," he said. "I've been playing soccer since I was born and it's mostly her fault."
Riny couldn't be happier about coaching with her son.
"It's really a joy for me," she said. "He has so much knowledge and he's so good with the kids."
Riny said Roland could offer more knowledge and new strategies to the players attending the camp, and Roland wanted to put his knowledge to use by coaching the kids who are involved in the KVSA.
"The reason I'm getting into coaching is because of my parents," Roland said. He also said he and his mom share a lot of the same coaching methods, but that "she's more fun."
The fun side of the KVSA camp came for Riny as she worked with the small children, one of her favorite parts of the camp. She worked with the 5- year-olds, while Roland worked with the 7-up through- 11 year olds. Riny said the 5-year -olds' favorite game was "Sharks and Minnows." The coaches would jog around imitating the "pre-shark attack" music and suddenly shout "shark attack," as the children ran and screamed, trying not to let the sharks "eat" their soccer balls.
The kids had to use their dribbling and shielding skills they've learned in camp to ensure that they were the last ones standing.
"We're working on lots of individual skills," Roland de Boer said.
One of the main goals in having the younger children in camp was the hope of teaching them, as Riny de Boer put it,"the interaction social part of the game; the love of the game."
Aside from the games played during the sessions, the camp offered improvement to many of the older children have played soccer before.
The goal for the older children was to ensure they could learn the skills necessary to play effectively down the road.
The camp the de Boer's run has brought in many players seeking to learn a few more skills. And they aren't the only ones who keep soccer in the family.
"This is a really good youth program," Sandra Mesler said.
Mesler's children, 7-year-old Eric Groefke and 9-year-old Carl Groefke, come to Lawrence from Germany each summer along with their parents to visit family. The boys said they have noticed some differences between "football" in Germany and soccer here.
Eric Groefke said he likes playing soccer in the United States better, while his older brother Carl said he prefers the German version.
Both brothers play soccer in Germany and decided to brush up on their skills while in Lawrence and participate in the KVSA camp.
"Here, it's a little easier than in Germany," Carl Groefke said of playing and learning soccer here in the United States.
His brother, Eric, had other reasons as to why he liked to play here.
"I like to play soccer and most people speak English here," Eric said, although Mesler said both her boys were fluent in German.
Other than the languages, there were other differences between the two soccer programs. Mesler said in Germany the children are involved in "serious clubs" at a much younger age.
"They have a four-week tryout in May and June," Mesler said. "They practice two times a week and after the four weeks they call you and say, 'Yes, we want your kid' or 'No, we don't want your kid.'"
Carl Groefke said he had already tried out for a team back home and was invited back.
Because the boys started playing soccer at a very young age in Germany, they seem to have developed sharper skills coming from a country where the passion for the sport is elevated to such a height.
"They are definitely above the rest, not just their skills but also their awareness of the game," Coach Roland de Boer said. "In Germany they get immersed in soccer, whereas here it's just a sport."
Copyright 2017 The Lawrence Journal-World. All rights reserved. This material may not be published, broadcast, rewritten or redistributed. We strive to uphold our values for every story published.