Indianapolis — Barry Collier said only one job could have taken him away from Nebraska.
He officially accepted it on Tuesday afternoon, becoming the new athletic director at Butler, his alma mater.
Collier, 52, who ran Butler's basketball program from 1989-2000, was the Bulldogs' winningest coach and was inducted into the school's Hall of Fame on Saturday.
"I want to be able to give back to Butler in a way I've never done before. It's an exciting change. It's not about me, it's about what needs to be done for Butler University," Collier said.
The Cornhuskers finished 19-14 last season but lost six of their last eight regular-season games to finish in sixth place in the Big 12 at 7-9. They knocked off Missouri and Oklahoma to reach the semifinals of the Big 12 tournament.
The Huskers lost to Hofstra in the first round of the NIT Tournament.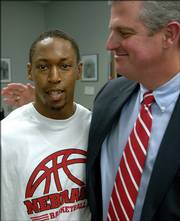 Collier said he felt good about the second half of his six-year career at Nebraska.
"I do know that as a program, we had our best year last year," he said. "I feel good about where the program is. Were this opportunity not available, I'd still be coaching at Nebraska today."
Collier left Butler in 2000, going 196-132 with winning records in all but two of his 11 years. As a player at Butler, Collier was the team's co-MVP in 1975-76. His love for the school hasn't waned.
"I'm a pent-up, leashed dog right now, and I can't wait to get started for Butler University."
At NU, athletic director Steve Pederson said he and associate athletic director Marc Boehm hoped to tap a coach by the start of the semester.
"We will find a leader who will believe there are no obstacles to our success. Will this happen overnight? No, it will not. Will it happen? Absolutely," Pederson said.
Pederson said a firm that assists in athletic-related searches probably would be hired to screen candidates.
It's an awkward time to conduct a search, with the fall semester beginning Aug. 21 and preseason practice starting Oct. 13.
A key recruiting contact period begins Sept. 9.
"The timing of this opening is unusual," Pederson said. "We hope top candidates will be available to move. If that timing becomes a road block, we'll look at possible interim solutions. However, that's not our first priority."
Copyright 2018 The Associated Press. All rights reserved. This material may not be published, broadcast, rewritten or redistributed. We strive to uphold our values for every story published.