River Falls, Wis. — To anyone who ever faced a bleak, empty future, Kyle Turley could already be a hero.
Doctors said the All-Pro tackle's career was over, cut short in his prime by a back injury so devastating it nearly destroyed all the strength in one leg. Fans gave up on him. Teams gave up on him.
Just about the only person who did not give up on Kyle Turley was Kyle Turley. Electing not to undergo a second operation on his back, he worked for two years, lifting weights, carefully monitoring what he at, training, sweating and hurting.
But he never quit. Now with a look of determination as well as a thick patch of chin stubble on his stern visage, he's braving the broiling sun of the Kansas City training camp.
"It's been a long time for me," he said. "I've been going at it for two years trying to correct this thing and now my back's healthy."
But without appearing in a game since 2003, can he retain the form that made him one of the NFL's most powerful blockers and an All-Pro in New Orleans six seasons ago?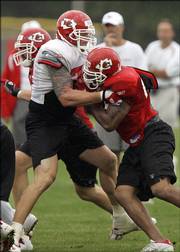 For the Chiefs' sake, he had better. They signed him in June to compete with several right tackle prospects. But then left tackle Willie Roaf retired on the eve of camp, and Turley was immediately thrust onto the first team.
Still testing his surgically repaired back, still chipping away two years of rust, he suddenly has been asked to replace an 11-time Pro Bowler.
No longer just an inspiring example of fortitude and grit, he could possibly be one of the keys to the season for the Chiefs.
Without that steady presence protecting Trent Green's blind side, Kansas City's lack of quarterback depth becomes a grave concern. Larry Johnson's bid for 2,000 yards rushing could be impossible if he lacks that powerful blocker at the point of attack.
It's the second time Turley has been asked to replace Roaf. The two were bookend tackles in New Orleans in 2000, helping lead the Saints to their only playoff win. Then in 2002, when Roaf was traded to Kansas City, Turley moved from right tackle to left.
"Hopefully, I can fill those big size-17 shoes of Mr. Roaf like I did down in New Orleans and have a great year and go out and win some football games," he said.
How worried was he that his career might be over? The question itself brings a scowl to the 30-year-old who once tossed an opponent's helmet about halfway down the field.
"Pretty (darn) worried," he said. "It was a serious injury. Career-threatening. I shouldn't be out here, according to most people. I just fought against that and pressed on and pushed through with the right information and the right people behind me, and trained my tail off and made it happen."
While getting his back healthy, he shed about 75 pounds off his heavily tattooed, 310-pound frame. His original plan was to come back as a tight end.
But then the Chiefs needed a right tackle, so he struggled to put the weight back on. He's now up to about 280 and looks as lean as any wide receiver.
"From the back injury, I lost all my right leg muscles completely," he said. "I had to rebuild that back entirely. So I'd like to put a little more strength in my right leg. If I can put on about five more pounds and keep myself in great shape, that would be great."
Watching him closely from the sidelines all week has been Tim Grunhard, a former Pro Bowl center for Kansas City.
"He's a hero to me if he can do it," Grunhard said. "Here's a guy who plays with a lot of emotion, a lot of spirit.
"But to come back physically and mentally, and to be put in a starting position as fast as he has been, it's going to be a tough proposition for him. I think he's going to be a great member of this team."
Copyright 2018 The Associated Press. All rights reserved. This material may not be published, broadcast, rewritten or redistributed. We strive to uphold our values for every story published.