Mary Ross admits not everyone loves a good beet.
But Ross, an owner at Bismarck Gardens, northeast of Lawrence, says she does have a regular stream of people coming in looking for the veggies.
"I guess you could say we have a beet cult," she says.
This is the tail end of the beet season, which Ross says was not particularly good this year, probably because of dry weather.
While many people are familiar with simply eating canned beets or pickled beets, there are other options.
Ross says one popular option is Harvard beets, with a thickened sauce that usually contains vinegar, sugar, salt and cornstarch.
"It's a sweet-sour flavor," she says.
A quick way to prepare Harvard beets, she says, is to cook beets and then prepare the sauce in the microwave, using equal parts sugar and vinegar. Heating the mixture for a minute will dissolve the sugar, she says.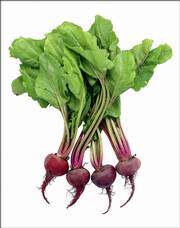 Natalya Veronin prefers her beets roasted - when she's not eating them in borscht, a traditional Russian soup.
Veronin, manager at Local Burger, 714 Vt., says roasting beets is simple.
"If you roast them in (olive) oil, they don't dry out," she says. "It makes them moist. You can salt them or sprinkle some herbs on them."
Veronin suggests thyme, sage, savory or rosemary.
Roasting also is a way to tame the flavor.
"I've found it doesn't really taste like beets if it's roasted," she says. "If it's with other veggies, once it's roasted, it takes the flavor of the veggies, the herbs and the oil."
Ross says the alternative methods to beet preparation might help you get over your childhood disgust - something she hears about often.
"But there's such nutritional value - colored foods are so good for you," she says.
Harvard beets
1 can (1 pound) diced or sliced beets
1/4 cups sugar
1 tablespoons cornstarch
1/2 teaspoons salt
Pepper to taste
1/2 cup vinegar
Drain beets, reserving liquid. Pour beet liquid into a 1-cup measure and add enough water to make 1 cup of liquid. Combine sugar, cornstarch, salt, pepper and vinegar in a 1-quart casserole or bowl. Stir in beet liquid.
Cook, uncovered, for 2 1/2 to 3 minutes in the microwave, stirring occasionally, until mixture thickens and is clear. Add beets and stir lightly. Cook, covered, for about 3 minutes or until beets are piping hot in microwave.
Source: www.cooks.com
Roasted baby beet salad
1 pound mixed red and candy-striped baby beets, stems trimmed to 1 inch
1 tablespoon minced shallot
1 tablespoon fresh lemon juice
3 tablespoons fresh orange juice
1 teaspoon freshly grated orange zest
1/2 teaspoon Dijon mustard
1 tablespoon extra-virgin olive oil
1 head Bibb or butterhead lettuce, leaves separated
Preheat oven to 400 degrees. Rinse beets. Wrap colors separately in foil and roast in middle of oven until tender, 45 minutes to 1 hour. Cool.
Peel beets and halve lengthwise. Whisk together shallot, juices, zest and mustard. Whisk in oil until emulsified and season with salt and pepper. Drizzle lettuce with 3/4 of dressing. Sprinkle with beets and drizzle with remaining dressing.
Source: www.foodnetwork.com
Potato-beet salad
6 large potatoes
2 eggs
1/2 cups celery
1/2 pint sweet salad cubes
2 cloves garlic
1 pod fresh red pepper
1/4 cups (or more) mayonnaise
1 (16 ounces) can diced beets, drained
Mix potatoes (after cooked). Combine all ingredients. Mix well, spoon in large bowl, refrigerate.
Source: www.cooks.com
Roasted beets
12 beets, peeled and halved or quartered
2-3 tablespoons olive oil
1 teaspoon kosher salt
1 teaspoon black pepper
2 tablespoons unsalted butter
4 scallions
Preheat oven to 425 degrees. Place the beets on a large baking pan and toss with the oil, salt and pepper. Transfer to the oven and roast until tender and browned, about 1 1/2 hours. Add the butter and garnish with the scallions. Transfer to a large serving platter.
Source: www.thatsmyhome.com
Hot spice beats
4 cup sliced cooked beets
2 tablespoons butter
1 tablespoon flour
2 tablespoons dark brown sugar
3 tablespoons vinegar
1/4 cup boiling water
1/2 teaspoon salt
1/4 teaspoon paprika
1/4 teaspoon cinnamon
1/8 teaspoon nutmeg
1/8 teaspoon cloves
Place beets in greased 1 1/2 quart casserole.
Melt butter, blend in flour and sugar. Add vinegar and boiling water, and cook, stirring constantly, until bubbling. Add remaining ingredients. Pour over beets.
Cover and bake at 350 degrees for 25 minutes.
Source: www.thatsmyhome.com
Beets in orange sauce
1 can sliced beets
1 tablespoon of margarine
1/3 cup of orange juice
Lemon rind
1/2 teaspoon of salt
1 tablespoon of cornstarch
Drain beets. Melt margarine in saucepan. Add orange juice, lemon rind and salt. Bring to a boil. Add beets. Cook until heated through.
Source: www.basic-recipes.com
Copyright 2018 The Lawrence Journal-World. All rights reserved. This material may not be published, broadcast, rewritten or redistributed. We strive to uphold our values for every story published.