Overland Park — State Sen. Jim Barnett outdistanced a crowded primary field Tuesday to win the right to carry the Republican Party banner against Gov. Kathleen Sebelius, a Democrat, in the Nov. 7 general election.
"We have felt very positive about the entire race," said Barnett, a physician from Emporia, after it became apparent he would win the primary. "We will bring real leadership to this state."
When asked how he would battle Sebelius and her $2.1 million campaign war chest, he said, "She will need every penny of that against the Republican Party."
Republican Party Chairman Tim Shallenburger called for the often fractious GOP to stand behind its candidates, saying, "If we can't unite, we can't win."
"Beat Dennis Moore and Kathleen Sebelius, that is our goal tonight," Shallenburger told a crowd of several hundred Republicans at the Sheraton Hotel. Moore represents the 3rd Congressional District, which includes east Lawrence and east Douglas County.
With 82 percent of the precincts counted in the GOP gubernatorial race, Barnett led a seven-man field with 36 percent of the vote.
His closest challenger was Ken Canfield, of Overland Park, a political newcomer and founder of a center that advocates better fathering.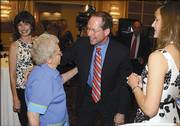 Canfield had 27 percent of the vote, while former House Speaker Robin Jennison, of Healy, had 22 percent.
The rest of the candidates were in single digits with Tim Pickell at 6 percent, Rex Crowell, 4 percent, Dennis Hawver, 3 percent, and Richard Rodewald, 2 percent.
During the campaign, Barnett said if elected he would cut taxes, change the way the Kansas Supreme Court is elected and make English the official state language.
On Tuesday, he also said he would offer a new school finance plan.
"What I will do is offer a plan for school funding that will likely be a multiyear plan : that will give adequate funding to schools but also allow us to do what we have to in this state to cut taxes and grow this economy," he said.
Sebelius has said she will veto any plan to scale back the current three-year, $466 million school funding bill.
Jennison said he was confident the party could unite behind Barnett, noting that the Republican gubernatorial candidates had mostly focused on the issues instead of making personal attacks.
"It's not been a tough primary from the standpoint of beating each other up. There've been a few spats," Jennison said.
The Kansas Republican Party dominates the state political landscape, but the GOP gubernatorial primary drew little interest.
That was mostly because major Republican contenders decided to not challenge Sebelius, a formidable vote-getter with a massive campaign treasury.
One by one, Republicans such as U.S. Rep. Jerry Moran and Atty. Gen. Phill Kline announced they would not seek the governorship this year. That left the field open to lesser-known candidates.
Barnett, Canfield and Jennison were viewed as the front-runners, but none had high name recognition.
Barnett raised nearly $520,000 for the campaign through late July, including $135,000 of his own money. Canfield, a political newcomer, raised nearly $200,000 and Jennison had $160,000.
Barnett was the only candidate to broadcast television ads in the GOP primary. Barnett and Canfield fought for the conservative Republican vote with Canfield's press secretary using his Christian newspaper to pump up Canfield.
Much of the battling in the GOP campaign was between the Barnett and Canfield camps, and took place on Internet chat rooms and e-mails sent to specific voters.
Jennison had a conservative voting record in the Legislature but ran afoul of some factions of the party by supporting expanded gambling and embryonic stem cell research.
Election 2006 - Kansas races
More on the 2006 Elections in Kansas
Video
Stories
Primary election results
Campaign finance reports
Copyright 2018 The Lawrence Journal-World. All rights reserved. This material may not be published, broadcast, rewritten or redistributed. We strive to uphold our values for every story published.