Fort Riley — Officially, Tuesday was the homecoming for the 1st Infantry Division, as its soldiers and leaders returned to their traditional Kansas quarters.
But for dozens of veterans of the Big Red One, it was also a bittersweet family reunion.
They marveled at the sight of hundreds of young soldiers and the appearance of the post, founded in 1853 on the Western frontier. They reunited with fellow alumni of the nation's oldest Army division and remembered those no longer living.
Gordon Kirkman, 70, of Pittsburgh, choked back tears recalling service with one of the division's tank battalions in Germany during the early 1950s. He was making his first trip to Fort Riley, having spent his tour of duty as part of a post-World War II occupation force.
"Not many of us left," he said. "We buried nine out of my VFW post this past year. It's one big family."
The Big Red One, established in 1917, returned to the place it called home from 1955 to 1996, after spending the past decade in Germany. The homecoming was marked with band music, speeches, cannon fire and a cavalry charge.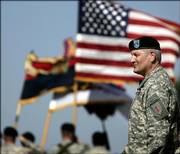 After the Big Red One left, various units remained behind at the post. Eventually, the Army sent a headquarters unit of the 24th Infantry Division to take charge at the post.
But with the 1st Infantry Division's return, the soldier population at Fort Riley will swell from 12,000 to more than 18,000. Like the entire Army, the division is undergoing a transformation, and its primary focus will be training military transition teams to help new armies and police in Iraq and Afghanistan.
"We truly follow in the footsteps of giants," said Maj. Gen. Carter Ham, a former member of the Army's Pentagon staff. "Some of those giants are here today."
About 2,000 civilians and several hundred soldiers from the division gathered on the Cavalry Parade Field in the sweltering heat.
At least eight soldiers were treated for heat stress during the ceremony, which lasted nearly 90 minutes as morning temperatures reached the lower to mid-90s, with the heat index approaching 100.
Kirkman arrived Friday in Kansas and took time to speak with "the young ones," the latest generation of soldiers.
"So many are slated for Iraq. That hurts," he said, adding that his only advice to them was to keep their heads down. "What can you say? Every situation's different."
Other veterans wore shirts and hats with the division's distinctive red "1" insignia. They spoke fondly of service in its units in Germany and Vietnam. Most had never set foot on the post, but knew its roots in Kansas were deep.
John Hinton, 60, of Metuchen, N.J., last saw John Blair, 59, of Dillon, Colo., 38 years ago, when Dillon dropped Hinton at the airport as they returned from the Vietnam War. Both were with a medical battalion in Vietnam.
"I called him and said 'The colors are coming back to Fort Riley. Be there,"' Hinton said. "It's the tightest college you've ever been with."
Added Blair, "The joke was, the Army was the Big Red One and 500,000 replacements."
Maj. Gen. Dennis Hardy relinquished command of Fort Riley to Maj. Gen. Kenneth Hunzeker, who had led the 1st Division in Germany.
Then, as part of the day's ceremonies, Hunzeker turned over command of both the post and the 1st Infantry to Ham, who received his second star in recent days.
Participants also included Gov. Kathleen Sebelius and other state and local officials who have spent more than a year preparing for the division's return.
"This is huge for Kansas," Sebelius said. "There's a huge positive economic benefit on our state. But beyond that it indicates that Kansas will be critical to defense of this nation and the world."
The division's return, announced in 2005, is part of moving soldiers from Europe to the United States. Thousands of spouses, children and military employees will swell the Fort Riley community and others nearby during the next five years.
Copyright 2018 The Associated Press. All rights reserved. This material may not be published, broadcast, rewritten or redistributed. We strive to uphold our values for every story published.