A couple decades ago, Craig Shultz had stars in his eyes.
"I was a rocketry nut when I was a kid," Shultz said, laughing.
No, he didn't personally make it to NASA.
But on Tuesday, he was helping to fuel the passion for a new generation of rocketeers at the Douglas County Fair.
"Lots of little kids still want to be astronauts," said Shultz, the superintendent of the fair's rocketry projects.
Shultz was checking in the 4-H'ers and their projects Tuesday afternoon, setting up times for them to be judged by Roger Miller of George's Hobby Shop in Lawrence.
Photo Gallery
4-H at the fair
Rocketry might seem a little out of place at a county fair, where people generally expect to see agricultural crops and livestock judging, he said.
But rocketry has been part of fair activities for several decades, Shultz said.
"I was in rocketry starting in the mid-'70s," he said.
And he was expecting about 40 or so rockets to be entered at the fair for judging this year.
"You have some disasters from time to time," he said, laughing. "Some make it and some don't."
The 4-H club members buy their kits at hobby shops, then build them, paint them and, finally, launch them.
They need to have photographic proof of a successful launch, he said.
"They have to fly it before the fair. So that's always interesting to see how many survive and how many maybe hit a tree or something," he said.
The smallest rockets are about 2 or 3 inches tall, with the largest ones reaching about 3 to 4 feet, he said. There are also home-built or custom-design rockets.
Photo Gallery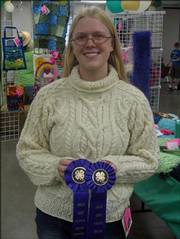 Douglas County Fair Grand Champions
The Grand Champions are the top ribbon winners in their categories at the Douglas County 4-H Fair.
One of the bigger rockets entered Tuesday was one by Jason Wulfkuhle, 10, Stull, who was awarded a purple ribbon.
His father, David Wulfkuhle, laughed as he talked about the launch - it went up 400 feet and started drifting toward a pond.
"I was ditching my cell phone and my wallet because I thought I'd have to go in after it," he said.
Brett Williams, 9, Eudora, watched and listened closely as Miller carefully inspected his two rockets.
Miller rubbed the finish with his thumb and measured the angles of the fins carefully with a protractor.
"Awesome. They all measured perfectly," Miller said. "Good job."
Brett, who earned two blue ribbons for his rockets, had a quick answer when asked what he liked most about building rockets.
"Launching them," he said.
Highlights of the Douglas County Fair
Here are some of the main events at this year's Douglas County Fair. The Douglas County 4-H Fairgrounds are east of 21st and Harper streets. A more detailed list of events and other information can be found at the fair's Web site, www.dgcountyfair.com.
Today Petting zoo and pony rides, 1 p.m.-10 p.m. Draft horse pull, 7 p.m. Cubby Lane & the Secrets concert, 7:30 p.m.-10 p.m.
Thursday Petting zoo, pony rides, 1 p.m.-10 p.m. Antique tractor show, 6 p.m. Moore's Greater Shows Carnival bracelet night, 6 p.m.-11 p.m. Kelley Hunt concert, 8 p.m. Goat-milking contest, 8 p.m. Movie night, 8:30 p.m.
Friday Bale-throwing contest, 6 p.m. Moore's Greater Shows Carnival opening night, 6 p.m.-midnight Demolition Derby, 7:30 p.m. Lawrence Letterday concert, 8 p.m.-10 p.m.
Saturday Turtle race, 9 a.m. Children's activities, 10 a.m. Moore's Greater Shows Carnival, 1 p.m.-11 p.m. Pedal tractor pull, 1 p.m. Joey Glenn concert, 7 p.m.-10 p.m. Hot Rod Tractor and Truck Pull, 7 p.m.
Sunday Awards ceremony, 3 p.m. 4-H livestock auction, 4:30 p.m.
Copyright 2018 The Lawrence Journal-World. All rights reserved. This material may not be published, broadcast, rewritten or redistributed. We strive to uphold our values for every story published.