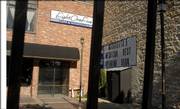 Mexican food and drinks are coming back to a former retro lounge at the edge of downtown Lawrence.
Margaritas is scheduled to open by the end of this month at 815 Mass., former site of Club 815 and, before that, Raoul's Velvet Room.
The previous occupants had sought to bring a shaken-not-stirred vibe to a building that for years had been home to Dos Hombres, a restaurant and club known for its south-of-the-border appetizers, beverages and into-the-night fiestas on its outdoor patio.
The location's festive atmosphere could return by the middle of the month, said Jose "Pepe" Lopez, a Margaritas partner. Renovations are ongoing at the building, which has 5,500 square feet on two levels, plus the fenced patio.
The building is owned by First Management Inc., which leased the property to Lopez's group for three years, with options for extensions.
The Lawrence operation has no connection to Margarita's, which has four locations in the Kansas City metro area. Lopez describes his group - himself, David Valdez and Nicho Perez - as three friends who have worked in restaurants and have connections spanning from Oklahoma to Iowa to Tennessee, but no ownership experience.
"We're going to give it a try and see how it works," Lopez said.
The group, Margaritas LLC, will open with about 15 employees and stay open until midnight or 1 a.m.
Copyright 2018 The Lawrence Journal-World. All rights reserved. This material may not be published, broadcast, rewritten or redistributed. We strive to uphold our values for every story published.