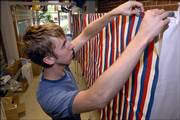 Decisions will be made today in the Democratic and Republican party primaries that may have far-reaching effects for Kansas, but fewer than one in four voters are expected to participate in the primary election.
On the Republican side, seven candidates are vying for the chance to run against Gov. Kathleen Sebelius, a Democrat who is seeking re-election to a four-year term. Sebelius faces no primary opposition.
The political warfare between the moderate and conservative wings of the Republican Party is evident in two contests: those involving Insurance Commissioner Sandy Praeger and challenger Eric Carter, a state representative; and Secretary of State Ron Thornburgh and challenger Kay O'Connor, a state senator. Carter and O'Connor are conservatives.
Meanwhile, a Democratic Party race that includes eastern Douglas County could change the direction of the Kansas State Board of Education.
Republicans in eastern Douglas County also will help pick a challenger to U.S. Rep. Dennis Moore, a Democrat, in the Nov. 7 general election.
More about the candidates
The Kansas Democratic Party has opened its primary election to unaffiliated voters. That means registered voters who have not declared a party affiliation can cast ballots in Democratic contests.
The Republican Party is keeping its primary closed. Unaffiliated voters, however, can show up at the poll, register as a Republican and vote on the Republican ballot. After voting, they can go to the county clerk's office and re-register as unaffiliated.
See more
Check ljworld.com and Sunflower Broadband Channel 6 after 7 p.m. to see live updates from the election.
-->
Election 2006 - Kansas races
More on the 2006 Elections in Kansas
Video
Stories
Primary election results
Campaign finance reports
Copyright 2018 The Lawrence Journal-World. All rights reserved. This material may not be published, broadcast, rewritten or redistributed. We strive to uphold our values for every story published.