Victorian canoe-shaped glass dishes are often seen at antique shows. The shape also has been copied by some 20th-century designers. Green, vaseline, blue, yellow and clear glass canoes can be found. Most are in a pressed-glass pattern, like Daisy and Button, with many lines and raised parts that make the outside of the dish bumpy. These long, narrow dishes were made to hold pickles, an important food in earlier times. Food preservation was difficult, and pickles helped disguise the taste of slightly spoiled food. Canoe-shaped dishes were sometimes part of castor sets. A silver-plated holder with wheels held the glass dish while an arched arm held the pickle fork. The holder could be pushed down the table so the diner could stab a pickle with the fork and put it on a dinner plate. Today pickle castors, especially those with a colored glass dish, are very popular with collectors. An unusual shape also adds to the value.
Q: While working on a rehab construction project about 45 years ago, my husband found a ceramic tile decorated with an embossed sepia-tone photographic image of Abraham Lincoln. The tile is 6 by 9 inches and 1/4 inch thick. Above the image are the words "Abraham Lincoln, Born 12th Feby 1809." The back is inscribed: "In commemoration of the 100th anniversary celebration of the birth of Abraham Lincoln, February 12th, 1909, modeled from the only untouched negative in the United States, taken 1864, Made by Sherwin & Cotton, Eastwood Tile Works, Hanley, Staffordshire." Does the tile have value?
A: The famous photographic image on your tile was taken Nov. 8, 1863, in Alexander Gardner's Washington, D.C., studio. Moses P. Rice was an assistant to Gardner and two years later opened his own photography studio. Rice obtained rights to the Lincoln negative and in 1869 started reprinting it. Prints and other objects with the image were made into the early 1900s. Sherwin & Cotton, a British pottery in business from 1877 to 1930, was given permission to make Lincoln tiles in 1909. Your tile would sell for $200 to $300.
Q: The Hubley toy airplane I have displayed on my mantel since 1965 belonged to my parents before that. The plane is about 6 inches long with a 9-inch wingspan. It has green wings that fold up on two hinges, a yellow fuselage, a clear plastic canopy and retractable rubber wheels. Three machine guns are mounted on each wing, and under the green paint there is a U.S. Navy star. The marks on the plane read, "Hubley Kiddie Toy, Lancaster, Pa., Made in U.S.A." Can you tell me when it was made?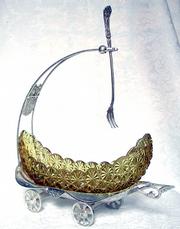 A: Hubley Manufacturing Co. was founded in 1892 by John Hubley and kept the same corporate name until it was bought by Gabriel Industries in 1965-66. The trade name Kiddie Toys was used from 1946 through 1958. Early Hubley toys were cast iron, but after World War II the company switched to a die-cast zinc alloy. Some Hubley Navy fighter planes were painted with unusual color combinations, including yellow and green. In general, postwar Hubley toys sell for less than prewar toys.
Q: Among the furniture my mother left me, there's a Windsor rocking chair with a metal tag that reads "Karpen Guaranteed Furniture, Chicago, New York." Please tell me about the company.
A: S. Karpen & Bros. was founded in 1880 by German immigrants Soloman and Oscar Karpen. They were two of seven brothers, and by 1894, the whole family was working at the growing Chicago firm. Starting in 1897, Karpen used metal tags to identify its furniture, but its New York factory didn't open until 1919, and Karpen didn't start making wooden Windsor chairs until the 1920s. The Karpen name and factories were sold in 1952.
Q: I am trying to find out something about my blue-and-white turkey platter. It belonged to my in-laws. It's 25 1/4 inches long by 21 1/4 inches high. A turkey pecking in a field of grain is in the foreground of the center design. Another turkey sits in the background. A floral design goes around the raised rim. The mark on the back is stamped in blue in all capital letters: "Cauldon, England." The word Cauldon is also impressed.
A: Pottery-making at Cauldon Place in Shelton-Hanley, Staffordshire, England, can be traced back to the early 1800s. But the printed mark on your platter was used between 1905 and 1920. During that time, the pottery at Cauldon Place was named Cauldon Ltd. It made both china and earthenware. Antique turkey platters are sought by American collectors who want to celebrate Thanksgiving in style. Your platter could sell for $100 or more.
Tip
Tea stains on teacups can be dramatically lightened if they're treated with a mixture of equal parts lemon juice and water. Apply the mixture with a cotton swab, then rinse with cool water.
Copyright 2018 The Lawrence Journal-World. All rights reserved. This material may not be published, broadcast, rewritten or redistributed. We strive to uphold our values for every story published.