Dreama Biggers, 47, knew she had tumor.
"I could feel it," she said, rubbing her right side.
"It kept getting bigger and bigger until it got to where I couldn't breathe," said Biggers, a regular member of Lawrence's homeless and near-homeless communities.
After trips to Haskell Indian Health Center and Lawrence Memorial Hospital, Biggers ended up at the University of Kansas Hospital in Kansas City, Kan., where she underwent major surgery on April 13.
"They took out this tumor that was massive, and took out my uterus and my ovaries and a small part of my rectum," Biggers said. "Now they say I have cancer."
Biggers said she spent 11 days at the KU hospital. On April 24, she returned to Lawrence.
"The people at the hospital gave me cab fare to the bus station and then a bus ticket to Lawrence," she said.
Being homeless and barely able to walk, she turned to the Lawrence Community Shelter, 214 W. 10th St., for help.
"As far as we know, there was no plan of care," said Loring Henderson, shelter executive director. "She just showed up back in Lawrence. We knew nothing."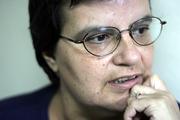 Henderson fears Biggers' plight may be a sign of things to come.
"We're not set up to deal with people like this," he said. "We're not a medical facility."
'Not restful'
Because Biggers' torso-length incision has been slow to heal, her dressings should be changed at least twice a day.
"I'm still bleeding," Biggers said.
A nurse with Douglas County Visiting Nurses Assn. changes Biggers' dressings in the morning; Haskell Indian Health Center does it in the afternoon.
Still, Henderson said, Biggers does not belong at a homeless shelter.
"This is not a very restful place," Henderson said, "but there's nowhere else for her to go. And now they're saying she may have to have chemotherapy. I don't know what we'll do about that."
Last month, he said, a homeless man arrived at the shelter with a tube inserted in his skull, his head half-shaved.
"He said he'd had a brain tumor removed," Henderson said. "He's since died."
Henderson said he wasn't sure of the man's name and whether he came from KU Med.
Dennis McCulloch, a spokesman for the KU hospital and medical school, shared Henderson's frustration, though from a different angle.
"We spend hours and hours putting care plans together and working with all the different safety-net clinics to make sure the transition from hospital to community goes as smooth as possible," McCulloch said.
"But at some point, the patient has to take over," he said. "When those patients are homeless -that's the challenge."
Challenges
The situation, he said, is often compounded by homeless patients also being mentally ill.
Biggers, for example, said she suffers from major depression and, in the past, has abused drugs. She is considered disabled.
The KU hospital, she said, did, in fact, develop a care plan that referred her to Haskell Indian Health Center. But it was hard to get there twice a day and, she said, the clinic is not set up to handle someone in her condition.
Haskell referred Biggers to Douglas County Visiting Nurses Assn., which, in turn, found Biggers at the shelter.
At the homeless shelter, Biggers spends most of the day lying on the floor.
"I think I'm going to see if I get a ride to the (LMH) emergency room," she said Friday. "I fell down and I think may have split myself. My (incision) feels like it's coming apart."
Biggers' troubles are not unique, said Terry Roberts, executive director at the Kansas State Nurses Assn.
"This is going on all over the state in varying degrees," Roberts said. "As nurses, this is very disconcerting. I mean, ask yourself: If this individual (Biggers) had insurance, do you really think she'd be put on a bus and sent to shelter and told she'd have to fend for herself?
"No, she wouldn't," Roberts said. "She's being treated differently."
But that's not the fault of the KU hospital, McCulloch said.
"We would be happy to sit down with the care providers in Lawrence to see what can be done to ensure a smoother transition," McCulloch said.
Whether such a meeting takes place remains to be seen.
At the shelter, Henderson said, "I'm not blaming anyone. I might if I knew what the answer was, but I don't have an answer. These people don't belong here, but we can't turn them away."
Copyright 2018 The Lawrence Journal-World. All rights reserved. This material may not be published, broadcast, rewritten or redistributed. We strive to uphold our values for every story published.