It is a once-in-a-lifetime opportunity. A chance to be one of the most-recognized faces in Kansas, a celebrity, adored by young and old.
Strangers will rush to hug you. They'll want your autograph.
"How many people can say they're Big Jay?" said Annie Thompson, among the many vying for a chance to be Kansas University's Big Jay mascot.
Tryouts for the Big Jay and Baby Jay mascots began Friday and continue today. Twelve are in the running. Only eight will succeed.
Students in shorts and T-shirts clamored into the bleachers at Allen Fieldhouse where they heard their first pep talk from Spirit Squad Coordinator Cathy "Cat" Jarzemkoski.
"Being in a suit is quite an experience," she said.
It'll be hot, she said. It can smell.
"But you'll never forget it," she said.
Weird requests
There's more to being Baby Jay and Big Jay than waving and jumping up and down.
The beloved birds rile crowds at sporting events. But they also do weddings, birthdays, charity events, commercials and even funerals.
"There's been a Big Jay pallbearer," Jessica Virtue, a veteran mascot, said. "There are some really weird things out there that people request the Jayhawk for."
The birds pose for billboards. They appear at golf tournaments, retirement parties and corporate events. For some events, they charge $60-$100.
Photo Gallery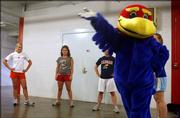 Big Jay & Baby Jay tryouts
It's a coveted job for enthusiastic - if not truly mad - students.
"It was crazy, insane," veteran mascot Kamille Ratzlaff said of her first year as Baby Jay. "That's basically the only way you can explain this."
Wannabe Jays suited up for the first time Friday. For Baby Jays, it was a small, but warm, suit with a thick, sagging belly pad beneath. For Big Jays, it meant donning football shoulder pads and a giant head.
"It's not an easy thing," Jesse Plous, a veteran Big Jay, said as he watched the novice mascots take their first steps.
"They haven't gone through character development yet," he said. "Tomorrow, you'll see a completely different thing. Tomorrow, you'll see what we want. By the time they come around in August, they'll be right where we need them to be."
Just friends, just birds
Big Jay and Baby Jay are not father and daughter, brother and sister, or boyfriend and girlfriend. They're just friends.
In fact, they're not boy and girl. They're just birds.
But they are different. Big Jay is athletic. Big Jay struts.
Baby Jay is juvenile.
"She's very skippy, mischievous, childlike," Virtue said.
Virtue, a senior, passed the tradition down to future Baby Jays.
"You're never mean," she told the future mascots. "You never take a cane from an old man. That's mean."
She demonstrated the Baby Jay introductory skip: a high-knee skip with high-swinging arms.
Megan Schottman, a 5-foot-tall student trying out for the first time, said she's been waiting for the chance for years. She used to watch games with her father and point at Baby Jay and say: "That's what I want to do. That's my dream."
"It's crazy," she said. "It's one thing I can use my height for."
But it's not always easy. It's hot being Baby Jay and Big Jay.
"It'll get up to 115 degrees in the suit," Plous said. "You start to lose brain cells at 130."
Battery-operated fans in the suits never worked right, so they're not there. When the Jays need a cooldown, they'll turn their beaks to the wind and let the air blow through the small netting.
Mannerisms matter
But, temperature aside, there's the little kids, the fans. They're smart.
"Kids pick up on everything," Plous said.
Big Jay, for example, has to act the same, no matter who's inside. That means signing autographs the same way, with the same hand every time. That means walking the same way, and doing the same thing every time.
"We're around each other so much," Plous said of the crew that is Big Jay. "I pick up their mannerisms and they pick up mine."
What do you know about the Jays?
What is the relationship between Baby Jay and Big Jay? Are they husband and wife? Brother and sister? They're just friends.
What is the gender of Baby Jay and Big Jay? They are neither - just Jayhawks.
What will I never see Baby Jay and Big Jay do? You'll never see Big Jay skip. That's more appropriate for the childlike Baby Jay. And you'll never hear either talk. That's a big no-no. You'll also never see them without their mascot heads on. That's also very bad.
And there's the crowds.
"If you don't like being groped, don't be a mascot," Ratzlaff said.
KU fans are great, she said, but they can get pretty excited.
"So many people try to body surf us up the crowd," Ratzlaff said. "We have to fight them off."
And then you have to be sensitive to those that are a bit skittish around mascots.
"One of our cheerleaders is actually terrified of mascots," Ratzlaff said. "I didn't know that until I tried to hug her from behind one time."
The cheerleader cried and collapsed onto the ground.
"Somebody had to come and console her," Ratzlaff said.
But all in all, it's good to be a Jayhawk.
Those fit for the job rise to the challenge.
"It's really amazing : how serious they take it," Jarzemkoski said. "They truly embrace going into suit."
Copyright 2018 The Lawrence Journal-World. All rights reserved. This material may not be published, broadcast, rewritten or redistributed. We strive to uphold our values for every story published.