Baghdad, Iraq — The incoming prime minister won the backing Thursday of Iraq's top Shiite cleric for his plan to disband militias, which the U.S. believes is the key to calming sectarian strife and halting the country's slide toward civil war.
But violence flared across a wide area of Iraq on Thursday, as Secretary of State Condoleezza Rice and Defense Secretary Donald Rumsfeld departed after two days of talks with Prime Minister-designate Nouri al-Maliki and other Iraqi officials.
In Baghdad, gunmen assassinated the sister of the Sunni vice president a day after he endorsed the use of force to quell Sunni-led insurgents.
Elsewhere, one Romanian and three Italian soldiers were killed in a bombing in southern Iraq, insurgents launched attacks northeast of the capital and a U.S. jet fired missiles at insurgent positions in Ramadi.
The endorsement of al-Maliki's plan came during a meeting in Najaf with Grand Ayatollah Ali al-Sistani. The ayatollah told al-Maliki, a Shiite tapped last weekend to form a government, that security should be his top priority.
"Therefore, weapons must be exclusively in the hands of government forces, and these forces must be built on a proper national basis so that their loyalty is to the country alone, not to political or other sides," a statement from al-Sistani's office said.
Al-Maliki plans to integrate militias, many of them linked to Shiite parties, into the army and police. To ensure their loyalty to the government, he wants to appoint defense and interior ministers without connections to militias.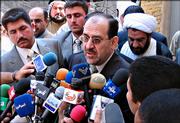 Former militiamen who have joined government forces, especially those run by the Shiite-led Interior Ministry, have been widely accused by Sunni Arabs of operating as death squads targeting Sunni civilians.
Attempts by previous Iraqi governments to abolish militias have failed, and their numbers have grown, in part because U.S. and Iraqi forces have been unable to guarantee public safety.
The leader of one major militia, radical Shiite cleric Muqtada al-Sadr, refrained Thursday from endorsing calls to disband his Mahdi Army. After a separate meeting with al-Maliki, the cleric was asked if he would give up his militia.
He replied, "All groups inside or outside the government work for the people's interest and service."
Al-Maliki has until late May to present his Cabinet to parliament, the final step in building a national unity government. The United States believes a government of Sunnis, Shiites and Kurds will help calm sectarian passions and tamp down the Sunni-led insurgency so the 130,000 American troops can begin to go home.
Copyright 2018 The Associated Press. All rights reserved. This material may not be published, broadcast, rewritten or redistributed. We strive to uphold our values for every story published.