Avery Lominska kneels down in the dirt to examine two long, green rows. It's time to assess the damage.
Last night a rabbit found its way into the field and nibbled about a dozen romaine lettuce plants into tiny nubs. The lettuce, one of Lominska's top sellers at the Lawrence Farmers Market, may or may not survive. Lominska, who planted it seed by seed, is frustrated but not surprised.
"Saturday we had hail damage; today, we had a rabbit get in," he says. "There are always things happening."
Tomorrow, Lominska may not be showcasing much romaine lettuce, but he will be selling other early vegetables at the opening day of the Farmers Market. Now in its 30th year, the market has long been a popular Lawrence tradition. It remains the oldest farmers market in Kansas, and is one of the few that insists its vendors personally grow everything they sell.
This year the Saturday market is moving to a larger location at 824 N.H. According to market coordinator Mercedes Taylor-Puckett, the move will increase the number of vendors from 65 to 102, a colossal boost when you consider that most wait four to five years just to get a stall.
The Saturday market's move is just one of the ways Taylor-Puckett has revamped the Downtown Lawrence Farmers Market. She says she wanted to create a "place to sit down and actually try to eat instead of juggling your coffee, your sausage biscuit, your bags of produce and your children."
With the addition of Market Square, a grouping of picnic tables canopied with tents at the east end of the lot, she did just that. Every week, two bands will perform at the Saturday market, one on the main stage near Market Square and another at the west end of the lot. The weekday market, though still located at 1020 Vt., hasn't gone without improvement. This year Buffalo Ray's, a traveling ready-to-eat food vendor with a strictly bison meat menu, will be a staple at the weekday market. Menu items include bison burgers, bratwurst and a tasty dish called "Triple B Barbecue."
Photo Gallery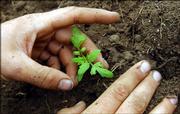 Farmers market prep
True value
Despite the changes, Taylor-Puckett says that the market's true value lies in the dependable quality of the products for sale. Market merchandise runs the gamut from fresh, locally grown vegetables and fruits to breads, eggs, milk, meats, herbs, cut flowers, crafts, body care products and potted plants - all of which make for great scenery.
"Some of the farmers are just so wonderful at presenting their products," Taylor-Puckett says. "You'll see these tables full of all these different colored carrots, and they're just so gorgeous you have to have them. Shopping at the Farmers Market really encourages you to eat healthy."
The farmers' market is sort of a family tradition for Lominska, whose parents, Bob and Joy, were vendors at the first one in 1976. As a toddler, Avery Lominska remembers begging his parents to let him come along. Today, the 27-year-old does all the market selling for Hoyland, the family's farm.
"I might even go if I didn't get paid," Lominska says.
He adds that his favorite thing about the Farmers Market is talking with customers and sharing recipes for exotic items like burdock root and rhubarb. He estimates half of his sales are to regular customers.
"There's new faces every week, but there's other people, you watch their kids grow up, you remember each time they got a new truck," Lominska says.
With his parents, Lominska plants, grows, composts, weeds, harvests and rabbit-proofs the crops. Because Hoyland Farm is certified organic, the Lominskas don't use fertilizers or pesticides, which usually means that the crops require more attention and nurturing. This early in the season, Lominska says, farming is "easy." Coming from a farmer, "easy" means six- to seven-hour days, six days a week.
"I take the day off on Sunday and work five or six hours," Lominska says.
Though his work is grueling, it's also rewarding. Lominska says he values the independence and self-direction that farming offers.
"I've never held a job for more than a month with a boss telling me what to do. I find it a lot easier going to work in the morning when I don't have to," he says.
No comparison
Floyd Ott, an 80-year-old Eudora orchard farmer, will proudly tell you that he was one of the original - but not "THE first," he says - vendors at the Downtown Lawrence Farmers Market.
He'll also tell you, if you get him talking, about how he was struck by lightning in 1954 riding on a rubber-wheeled chart, or how he survived the Depression by picking potatoes for the worthy sum of $8 a day. He's the kind of friendly, weathered farmer that one would expect to see at a farmers' market. In fact, he built the Lominska's market table back in the early '80s. Today it's considered a family heirloom.
Farmers market
Tomorrow, early in the morning before the sun rises, Ott will pick the broccoli, cauliflower and spinach from his garden, pack it in coolers and take it to the Farmers Market, all before the 6 a.m. market bell rings.
Like Lominska, Ott enjoys the independence of farming, but he says his favorite part is the customer satisfaction he gets from selling at the Farmers Market.
"I enjoy working, seeing things grow. I'm proud of it. ... I like compliments," Ott says, "People tell me how good it is. I have to buy a bigger hat every week!"
He adds that the Farmers' Market offer customers a freshness and immediacy they can't get from a grocery store.
"Anything homegrown is so much different than what you'd buy in the store. There's just no comparison," Ott says. For example, with stone fruit, which includes peaches, plums and nectarines, "the last four days before you eat it is the only time that Mother Nature puts the sugar in that fruit. So if you pick something before it's ripe, it's not going to be sweet."
Farmer for life
Just a few years ago, Lominska was traveling the country with only a guitar to his name.
"I'm sure it put me well below the poverty line, which is fine for a few years," he says. "But I couldn't be broke forever."
After about five years of living as a nomad, Lominska returned to Hoyland Farm to settle down and do what he never thought he would do: become a full-time farmer. In between growing seasons, he travels to exotic places like New Zealand, South America, Europe and Australia, where he discovered a new strain of pumpkin. Next time, maybe he'll go to Central America. He's interested in procuring some squash seeds from Nicaragua.
Though he's not one to plan too far ahead, Lominska imagines himself at the Farmers Market, selling vegetables atop his heirloom table, for quite some time.
"I expect I'll do it for the rest of my life," he says. "But I'll take sabbaticals."
Copyright 2018 The Lawrence Journal-World. All rights reserved. This material may not be published, broadcast, rewritten or redistributed. We strive to uphold our values for every story published.