Cleveland — Ben Broussard was glad he didn't hear the fans calling his name.
Broussard drove in a career-high eight runs, and the Cleveland Indians beat the Boston Red Sox, 15-3, on Thursday night, handing Josh Beckett his first loss with his new team.
"I didn't hear it," Broussard said about the fans' chanting "Ben-ny, Ben-ny," each time he came to bat after hitting his fourth career grand slam in the first inning. "I was locked in. It's probably good that I didn't hear them. I would have probably started to overswing."
Instead, Broussard added a solo homer and went 4-for-5 as Cleveland won the final two games of a three-game series. Boston has lost five of its last seven.
Beckett (3-1) gave up six hits and eight earned runs in 32â3 innings in his first loss since Aug. 28 when he was with the Florida Marlins. Broussard's slam was the first allowed by Beckett in 638 career innings.
"It was one of those nights, just brutal, brutal, brutal," Beckett said.
Broussard opened the third with a 421-foot shot down the right-field line for his fourth homer of the season and fifth career two-homer game.
Paul Byrd (3-2) gave up two runs over five innings for Cleveland.
"Ben was unbelievable," Byrd said. "He sure made me feel comfortable, giving me a four-run lead like that. And the crowd chanting his name was great. That was really cool."
Mike Lowell had an RBI double, and David Ortiz added a pair of run-scoring singles for the Red Sox.
Broussard's two-run, bases-loaded single off Julian Tavarez in the sixth put Cleveland ahead 11-2 and gave Broussard a .368 (14-for-38) career average and 47 RBIs when hitting with the bases loaded.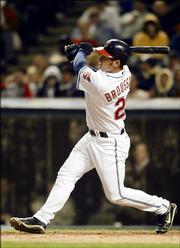 Broussard added an RBI single in Cleveland's four-run seventh to become the first Indians player with eight RBIs since Manny Ramirez on Sept. 24, 1999, at Toronto. The club record is nine by Chris James on May 4, 1991, at Oakland.
"I didn't try to think about anything except being aggressive at the plate," Broussard said. "I had some crazy game in the low minors where I went 5-for-5 with three homers and 11 RBIs or something, but that was a long time ago," at Single-A Great Falls in 1999.
Broussard, platooning with right-hander Eduardo Perez at first base this season, is hitting .489 (23-for-47) against right-handers with four homers and 17 RBIs. Perez is hitting .346 with three homers and 10 RBIs against lefties.
"Broussard had a career night, and I wish it would have been against someone else," Boston manager Terry Francona said. "We didn't have an answer for anything, and it just got worse."
Beckett, the key part of a seven-player trade with the Marlins last November, walked five and struck out six. It was the third time in his career that he gave up three homers - including his last start April 21 against Toronto.
Yankees 4, Devil Rays 1
New York - Hideki Matsui hit a tiebreaking, two-run single after Mark Hendrickson walked his first two batters of the night in the sixth inning, and New York beat Tampa Bay.
Shawn Chacon put his early struggles behind him with his second straight strong outing, and the Yankees bounced back from Wednesday's 4-2, 10-inning loss, in which they walked 14 times - with none of those runners scoring. This time, they had three walks, and all three runners came around.
Orioles 7, Blue Jays 5
Toronto - Kris Benson worked seven strong innings, and Baltimore beat Toronto to snap a four-game losing streak.
Corey Patterson hit a bloop, two-run double in a four-run seventh for the Orioles, who salvaged the last game of the three-game series. Benson (3-2) allowed two runs and three hits to get his third win.
Copyright 2018 The Associated Press. All rights reserved. This material may not be published, broadcast, rewritten or redistributed. We strive to uphold our values for every story published.