KANSAS CITY, KAN. — With reporters surrounding him, Nick Czyz stopped in mid-sentence when he felt a tap on his backside.
He had just pitched his best game as a Jayhawk. And, like always, his brother Don was right behind him.
"My brother has been the key to my success," Nick Czyz said. "Whenever I have a bad outing, he's been there to pick me up. When I have a good outing, I'm sure he's going to have some things I still need to work on."
The older sibling might have a little more trouble with that after Wednesday's performance, as Nick was nearly perfect in a 9-1 victory over Creighton in the Best of the Midwest Tournament at CommunityAmerica Ballpark.
Czyz went seven innings, allowing just a single hit and no earned runs while striking out six Bluejay hitters.
"He's the most high-profile pitcher we've signed since we've been here," Kansas coach Ritch Price said. "We have big expectations for him, and tonight I thought he was absolutely special."
Only a freshman, Nick had been mostly overshadowed all season by his older brother, who leads the country with 15 saves for the Jayhawks.
That wasn't the case Wednesday, when Nick allowed only one runner past first base in seven innings.
"For me, I think it's just a mental thing," Nick Czyz said. "It's just being able to go out there and, like my brother says, strike fear in the hitter's eyes."
Relievers Paul Smyth and Matt Lane finished strong, retiring all six hitters they faced to preserve the one-hitter.
Meanwhile, Kansas' offense had to adjust to the loss of yet another starter.
Photo Gallery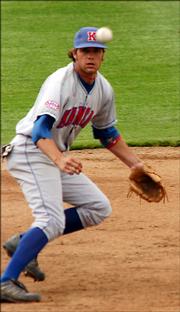 KU baseball vs. Creighton
Catcher Buck Afenir was diagnosed with mumps earlier in the day and sent to the hospital. He will also miss the weekend series with Oklahoma over the weekend.
With catcher Dylan Parzyk already out because of a sprained right ankle, third-stringer Andrew Spitzfaden stepped up to the challenge in his first start as a Jayhawk.
Not only did he call the pitches for Czyz and company in the one-hit effort, he also went 2-for-4 at the plate with an RBI.
"I had the jitters a little bit early on," Spitzfaden said, "but I've caught a lot of games in my career so it was just getting back into things."
About the only time that Spitzfaden looked out of place was during a rare baseball occurrence in the sixth.
After Erik Morrison and Preston Land had recorded outs against the right-handed Pat Venditte, switch-hitter Spitzfaden opted to hit from the left side for the desired lefty versus righty matchup.
The freshman catcher was forced to step out in disbelief when Venditte switched his glove to his right hand and became a left-handed pitcher for his at-bat.
"That was the first time that I'd ever seen that, and I've been playing baseball for my whole life," Spitzfaden said. "I was kind of asking the umpire what was going on, and he really didn't know what was going on either."
Using a specially made glove that can fit on either hand, Venditte - along with Harvard senior Matt Brunnig - is one of only two switch-pitchers in Division One baseball.
Spitzfaden grounded out to first, and the Creighton sophomore retired all six hitters he faced to lower his earned-run average to 2.51.
Kansas senior Gus Milner started the scoring in the first, slamming a ball off the wall in left for a two-run double and a 2-0 lead.
The Jayhawks would add six insurance runs in the final two innings. Doubles from Jared Schweitzer and Erik Morrison set the table for RBI singles from Spitzfaden and Brock Simpson in the eighth. John Allman added a two-run double down the left-field line in the ninth, later scoring on an error to make it 9-1.
Creighton's only run came against Czyz in the sixth. Ross Sinclair was hit by a pitch, stole second base, then scored on an error by shortstop Ritchie Price.
Schweitzer led the Jayhawk offense, going 3-for-5 with two runs scored. Land added a pair of hits, while Allman scored three and drove in two.
The Bluejays have scored two or fewer runs in seven of their last eight games.
Kansas, which is ranked 30th in the latest National Collegiate Baseball Writers' poll, will play host to No. 8 Oklahoma this weekend in a pivotal conference series.
Because of the back-to-back starting efforts from Brandon McNamara and Nick Czyz, the Jayhawks will enter the matchups with a fresh pitching staff.
"I think that's the final step in us becoming a top-25 program," Price said, "is that we can pitch midweek games and all three days of the weekend."
Copyright 2018 The Lawrence Journal-World. All rights reserved. This material may not be published, broadcast, rewritten or redistributed. We strive to uphold our values for every story published.