A friend of mine who makes the most delectable, mouth-watering scones first told me about Lawson Brothers Farm.
She would regularly trek out to the little farm two miles east of Vinland and pluck berries fresh off the canes, filling baskets with vine-ripened blackberries and raspberries. I finally saw the historical homestead at her wedding, where the lush, natural setting served as a picturesque backdrop.
Lawson Brothers Farm is a destination drive merely for the delicious berries you can hand-select while meandering the rows of canes. But it's also a fascinating stop to learn about our Kansas forefathers and catch a glimpse of life in the 19th century.
The farm was established in 1856 when Knud Anderson caught wind that land in the Kansas Territory was selling for 50 cents an acre. He left Chicago and snatched up his little piece of prairie paradise. Anderson and his wife, Anna, had five children who all tended to the crops.
Today, a handful of the original buildings that the Anderson's erected remain. The sandstone house built in 1868, the main barn raised in 1883 and a slew of other structures hold enthralling tales of frontier life. It was a time when relatives crammed into tiny homes and the outhouse was about the only place to find privacy.
Photo Gallery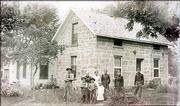 Lawson Brothers Farm
Through the years, various family members inherited Lawson Brothers Farm, the latest being Bertha Weiler, who lived there alone until her death in 1991 at the age of 95. At that time, brothers Gary, Dennis and Stan Lawson took possession of their great-great-grandparents' property, introducing customer-picked berries in 1998. The brothers have treasured and preserved the oral and photographic history of the homestead.
"We know that when our ancestors were alive, the community they developed, friendships they fostered and the work that they had was most important to their lives," Gary Lawson says. "We try to maintain the old structures, but the most essential aspect is cultivating the land."
Growth opportunities
The farm grows Heritage raspberries, a biannual cane, but the brothers also have planted ever-bearing and summer-bearing varieties in hopes of having a bumper crop in the summer and fall seasons.
"We were interested in learning about a crop of higher quality than corn or beans," Gary says. "The equipment is lesser, and people seem to really enjoy the process of picking their own berries and viewing the homestead. We really don't know much about berries actually, but we are learning."
Lawson Brothers Farm, 1862 N. 700 Road, two miles east of Vinland, offers pick-your-own strawberries, blackberries and raspberries. Here's a look at when the berries will be ripe:
¢ Strawberries: Late May
¢ Blackberries: Mid-July
¢ Raspberries: Mid-August
In the process of learning, the brothers, their wives and Gary's son also have sown quite a few rows of strawberries, which will be new for the 2006 harvest. And they're not stopping there.
"We currently have one acre planted of blackberries, raspberries and strawberries, but each year we intend on planting more berries until all 10 acres are full," Gary says. "The idea of planting peonies or some other flowering shrub has been tossed around as well. We'll see."
The Lawson brothers sell by volume, and the farm works on the honor system. The barn doors stay open during picking season, and plastic containers are available for toting berries. A jar sits next to the scale where pickers determine the price of their harvest. Last year, Gary estimates, the farm sold 2,500 pounds of blackberries alone.
Farm happenings
The brothers also are entertaining the idea of playing host to more weddings, reunions and anniversary gatherings on the property.
Some events scheduled during the 2006 harvest season include a Birdwatching Day on May 20, when visitors can learn about native winged critters and fill up on fresh strawberries, and a Blackberry Dessert Demonstration Day on July 15, featuring culinary delights to try when you get home with your carload of blackberries.
Whether or not you have a taste for berries, Lawson Brothers Farm is a great place to soak up some fresh air and get a taste of what life was like on a 19th-century Kansas homestead.
- Jennifer Oldridge, a Kansas University graduate, is an avid gardener who previously operated a landscaping business.
For more information, call (785) 594-3936 or visit www.lawsonbrothersfarm.com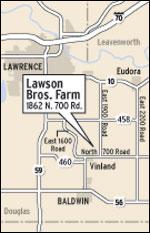 Copyright 2018 The Lawrence Journal-World. All rights reserved. This material may not be published, broadcast, rewritten or redistributed. We strive to uphold our values for every story published.