KANSAS CITY, KAN. — Brendan McNamara proved one thing Tuesday. The Kansas University pitcher is the baseball equivalent of the all-weather radial tire.
McNamara, a junior right-hander from suburban San Diego, Calif., picked arguably the worst day of the spring to produce his best outing as a KU pitcher.
McNamara, a junior college transfer, fanned 10 and allowed four harmless singles in 61â3 innings as KU blanked Southeast Missouri State, 6-0, in the Best of the Midwest Tournament at CommunityAmerica Ballpark.
"I was shocked how well he pitched in this weather, him being from San Diego where it's warm," KU coach Ritch Price said. "That's the best he's pitched for us."
McNamara was unfazed by the miserable conditions - cold, wind and a constant drizzle that eventually forced the game to be called after 6 1â2 innings because of deteriorating conditions.
"It was a tough day to swing the bat and a tough day to pitch," Price said.
Tougher on hitters, McNamara figured, than pitchers.
"The first thing I noticed," said McNamara, a 6-0, 205-pounder from Oceanside, Calif., "was the wind was blowing in. That makes it tough on hitters."
But didn't the cold, wind and drizzle bother him, too?
"Not really," he said. "I didn't think it was too cold."
Photo Gallery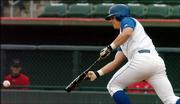 KU baseball vs. Southeast Missouri State
McNamara was lifted in favor of left-hander Andy Marks after surrendering a ground single to SEMO's Chris Gibson with one out in the seventh. That was a pitch-count decision. He had thrown 100.
In making his 14th appearance and his fifth start, McNamara pushed his record to 2-1 and lowered his earned-run average to 2.70. Only Don Czyz, the Jayhawks' closer, has a lower ERA, but McNamara remains a mid-week pitcher because he can't crack the three-man rotation of Kodiak Quick, Ricky Fairchild and Sean Land that Price uses during weekend Big 12 games.
"I'd like to start some games in the conference," McNamara said, "but I can't complain about getting starts during the week."
SEMO is a mid-major school with a 15-23 record, but the Redhawks have defeated Missouri twice this season, so McNamara's 10 strikeouts - the most by a KU pitcher this season - and no walks were impressive.
"Today my change-up was working," he said, "and I went to my slider when I got ahead in the count."
Kansas was nursing a 1-0 lead until a five-run fifth-inning explosion that featured four hits, including Preston Land's double, and two errors by SEMO infielders.
Land's two-bagger was the lone extra-base hit among KU's eight safeties. The Jayhawks also drew six bases on balls and wound up stranding eight runners.
Kansas (30-16) is scheduled to meet Creighton in the round-robin tournament at 3 p.m. today.
Notes: Clean-up hitter Gus Milner had two singles, drew a pair of walks and scored twice ... Ritchie Price (1-for-3) has hit safely in eight straight games. : KU is 3-0 in Best of the Midwest games and 7-0 all-time against SEMO. : Tuesday night's scheduled tourney game between MU and Creighton was called off.
Copyright 2018 The Lawrence Journal-World. All rights reserved. This material may not be published, broadcast, rewritten or redistributed. We strive to uphold our values for every story published.