A barrage of balls sent Joe Dineen to first base to lead off the Detonators's 10U DCABA game on April 18 with a walk.
Cole Moreano followed in similiar fashion, dodging high and low pitches from Athletics hurler Brendon Neal.
The two freebies quickly proved costly as the Detonators dominated the A's in a 16-6 victory at Youth Sports Inc., in a game that was called after the two-hour time limit.
"First, we were just excited to be playing," said Steve Walter, of his team's season-opener. "It's nice to just get out and see your work in action."
It wasn't just an offensive output either, the Detonators won with defense too.
Dineen and Moreano turned a double-play after the Detonators took the field in the first with a 4-0 lead.
Andrew Denning got the first run for the As after Chase Logan slugged a high pop fly to left field. But the A's did little damage as the Detonators came out of the inning, allowing just the lone run.
The Athletics stepped up their defense too, allowing one run in the top of the second. But the Detonators shut out the A's in the bottom half of the inning.
Detonator Wilson Hack led off with a long drive, and his teammates followed suit, scoring six runs in the inning.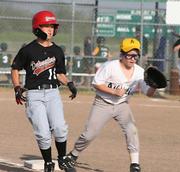 The Athletics loaded the bases in their next at bat and got back into the contest when they plated four batters, cutting the lead to 11-5.
But in the top of the fourth the Detonators put even more distance between the two teams, scoring another five runs. Minutes later the game was called because of the time limit.
"Defensively, we really made our plays," Walter said. "We ran our bases really well."
But the Detonators coach was not completely satisfied with the season-opener.
"We had a couple mental lapses," he said. "Especially during that stint in the second inning.
"That's correctable. We're far from perfect, but I'm happy with how the game went."
Detonators pitcher Zach McNabb said he was happy with the overall performance of his team.
"We batted well," he said. "Everyone who pitched managed to do well."
Dineen said he felt it was a great start to the Detonator season as well.
"Our hitting went really well," he said.
Copyright 2018 The Lawrence Journal-World. All rights reserved. This material may not be published, broadcast, rewritten or redistributed. We strive to uphold our values for every story published.