Chilly weather, rain and lightning couldn't keep people away from Tuesday's grand opening of Lawrence's newest restaurant.
The tents certainly helped.
Spangles officially opened to the public at 6:30 a.m. Tuesday, after an evening and early morning filled with music, food giveaways, dance contests and other games in a tent city that had popped up in the parking lot at 3420 W. Sixth St.
The pre-opening crowd started gathering Sunday night and had swollen to 250 by the time the place opened. The first 100 received certificates for a year's worth of free meals.
Photo Gallery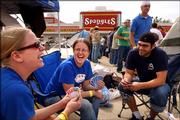 Spangles
Tents had filled the lot, and employees were posted outside through Tuesday's lunch hour to direct traffic.
"At one point, when it was actually lightning, we allowed people (waiting in line to win free meals) to leave," said Dale Steven, a Spangles co-owner on hand overnight for the opening. "But out of all the people, only two people left. :
"It's been exceptional."
The restaurant is the 22nd for the Wichita-based company, owned by Dale and Craig Steven, brothers who founded Spangles in 1978.
Copyright 2018 The Lawrence Journal-World. All rights reserved. This material may not be published, broadcast, rewritten or redistributed. We strive to uphold our values for every story published.