A critic in a 1996 issue of Dance magazine surmised that experimentation killed the Ralph Lemon Dance Company.
What audiences wanted was for dancers to tell them a story, the reviewer wrote, and Lemon had grown too abstract.
Wally Cardona's not buying it.
Cardona, who was among the casualties when the New York company dissolved in 1995, now leads his own troupe and says no matter what a choreographer puts onstage, every audience member will see something different.
One of the recent pieces he created for his company, the New York-based Wally Cardona Quartet, ends with a female dancer climbing a stairway that ends in midair.
"Some people would say, 'That was so uplifting and optimistic,'" Cardona says. "Then someone else would say, 'Oh, that's so depressing, so futile. There's nowhere to go; she's stuck.'
"Even I changed from day to day. Some days it would totally lift my spirits, and other days it would be like, 'Oh yeah, life is hard.'"
So if Cardona had one message for people planning to attend the University Dance Company spring concerts - where the program includes a work Cardona taught the Kansas University student dancers during a four-week residency starting in late February - it would be this:
Watch dance like you're watching an ant farm.
Say what?
"I just remember being so full of wonder when I was a kid looking at my ant farm - just spectating all of this life and thinking that there was some kind of sense," he recalls. "You begin to find connections and labels, like, 'Oh, look at that poor ant. He's so confused. He keeps going round and round and round.
"That's fine for you to see it that way, but is that what's actually going on? Is he actually confused, or is he just marking the spot, making it very clear to everyone that this is the direction to take the food?"
Cardona continues, "Whatever that fascination is with just being able to spectate something that is outside your normal zone in life is, I think, what's great about art. That's the function of it. So just pretend that you're coming to look at an ant farm for a while."
Experimental edge
Photo Gallery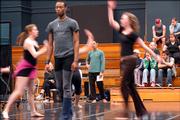 Urban reflections
This is all a way of saying that Cardona still believes in experimentation. In fact, it drives the 40-year-old choreographer's work, which he hopes challenges audiences to broaden their perceptions.
"It's important for me that there is a next step," he says, "and that I'm not just treading water."
In the spirit of forging ahead, Cardona created an entirely new dance for the KU company while on campus with financial support from the KU School of Fine Arts and a National College Choreography Initiative grant.
Dubbed "Flat," the piece for seven dancers "operates at an urban speed," Cardona says, "magnifying the multiple and fast-paced interactions of the world we live in."
The dancers move above an electronic score of rhythmic cracks, pops, twists and creaks and use free-standing panels on wheels - mirrored on one side, black on the other - as props. Meggi Sweeney, a 20-year-old KU junior from Carrollton, Mo., recalls the day Cardona discovered the mirrors, typically lined up on the edge of the company's Robinson Hall studio for rehearsal purposes.
"I remember him coming into the studio, and he was like, 'These are cool mirrors,'" she says. "He just pulled them out into the middle of the room and was very intrigued by the potential that they had."
The reflections add dimension to the work, Sweeney observes.
Past Event
University Dance Company
When: Thursday, April 27, 2006, 7:30 p.m.
Where: Lied Center, 1600 Stewart Drive, KU campus, Lawrence
Cost: $7 - $10
-->
-->
"You're out there dancing, and all of a sudden you're over to your left, and then you're in the back and there are like four of you," she says. "You're able to see things that you wouldn't see otherwise."
Although Cardona came into the residency with a concept - lately he's been fascinated by incessant movement onstage - he built "Flat" with the student dancers as he went along.
"I think it's important that they actually get an idea what it is like to make a piece," Cardona says. "That they get to work with me as I do with my company, which is I have some ideas but then we get together in the studio and build something together."
Building reality, audiences
Sweeney says people who have seen "Flat" often describe it as "urban." Cardona acknowledges that characterization and wonders how the piece will resonate with Kansas audiences.
"Is there a different kind of threshold for people, for instance, who aren't used to where I am right now - where most of my business meetings take place - on my cell phone on a street somewhere?" Cardona says during an interview from a New York sidewalk. "You get used to that kind of input. Some people might call it noise, but I don't think I really call it noise as much anymore. It's just, 'Oh that? Yeah, that's my life.'"
A graduate of Juilliard, Cardona's first choreographic work was performed at the Cannes Festival. His next piece toured seven countries and won a major arts prize in France. He founded the Wally Cardona Quartet in 1997 and has taken the troupe to the Brooklyn Academy of Music, Joyce Theater and Jacob's Pillow, as well as festivals in Europe, Mexico, Australia and Korea.
Like "Flat," his most recent works have incorporated objects onstage. In a piece called "Everywhere," dancers maneuver among 300 columns, each 4 inches wide.
"As a director, I think it builds in a kind of reality to what the dancers are doing out there, and I've always been attracted to that," Cardona says. "I'm most engaged when I'm seeing people in action and really dealing with the moment."
He hopes audiences at the University Dance Company concerts will heed his ant farm advice and enter the performance hall with an open mind.
"I guess to me that is what people are talking about when they're saying 'building an audience.' It's building an audience's capacity to see more," he says. "It's not really about understanding; I don't need that. But if you can kind of broaden their perception, that would make me very happy."
On the Program
In addition to guest choreographer Wally Cardona's "Flat," the University Dance Company's spring concerts will feature the following works by KU dance faculty:
¢ In "Dia..." - a collaboration of choreographers Muriel Cohan and Patrick Suzeau, composer Gabriela Frank and director of the KU Wind Ensemble John Lynch - 21 dancers create a spectacle of solemn cantos, mourning and wild celebration symbolic of Dia de los Muertos, the commemoration of the deceased by people throughout Latin America. The trickster/death figure, danced by Suzeau, weaves among the celebrants.
¢ Willie Lenoir describes "Running Toward Iskander" as "a frantic dash by seven women to a mythic lost valley."
l In Jerel Hilding's ballet, ":between:," dancers traverse the kaleidoscopic moods of Mendelssohn's String Symphony No. 10 in B minor, beginning with an adagio of foreboding, moving on to an intense allegro and finishing with an agitated presto.
¢ "For Our Silent Mothers,"
by Joan Stone, is danced to traditional Jewish chant. What is untraditional is that the singer and dancers are women, not men. Ritualistic gestures predominate in the first section, questioning movements in the second, and lively folk rhythms and patterns in the third.
Copyright 2018 The Lawrence Journal-World. All rights reserved. This material may not be published, broadcast, rewritten or redistributed. We strive to uphold our values for every story published.