Paris — Sorbonne University students returned to classes Monday for the first time since protests against a youth jobs law forced the school to close six weeks ago, but police had to remove 150 die-hard protesters staging a final demonstration.
While universities nationwide were shut or thrown into disarray by the protests, the Sorbonne's column-lined main building on the Left Bank became a symbol of the standoff after students occupied it March 8-11 and riot police stormed in to dislodge them.
Monday's protesters ransacked offices and piled up desks in a courtyard before holing up in a conference room. Police with riot helmets and shields asked the demonstrators to follow them out of the building and they complied.
Classes otherwise proceeded normally, as students strolled past police vans to enter the school. University official Nicolas Boudot said the protesters were not representative of the 12,000 students enrolled at the Sorbonne.
"The vast majority of students that we talked to today wanted to return to class," he said.
Weeks of protests dwindled after President Jacques Chirac surrendered to students and unions April 10 and scrapped the disputed plan, which would have made it easier to hire - and fire - young workers.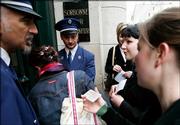 The Sorbonne had remained shut, however, while workers carried out $677,000 in repairs and during its regularly scheduled spring break, which ended Monday.
The university had to replace the fire alarm and repair the heating system, but its president, Jean-Robert Pitte, said the greater damage was to the school's image.
During much of the protest movement, the Sorbonne's facade was barricaded behind a high metal screen where police with water cannons were entrenched. The streets outside the school remained a gathering point for protesters, who scuffled with police.
Other universities around France reopened Monday for the first time since the protests. The government minister in charge of higher education, Francois Goulard, said on France 2 television that the return to class was normal "practically everywhere."
Copyright 2018 The Associated Press. All rights reserved. This material may not be published, broadcast, rewritten or redistributed. We strive to uphold our values for every story published.