Katmandu, Nepal — Nepal's embattled king appeared to defuse weeks of mass protests that have pushed this Himalayan country near the brink of anarchy, reinstating the lower house of parliament on Monday as his opponents had demanded.
With few choices left and hoping to avoid a bloody showdown between demonstrators and his security forces, Gyanendra's announcement cleared the way for the creation of a new constitution that could leave him largely powerless, or even eliminate the monarchy.
Gyanendra also expressed his sympathies for the 14 demonstrators killed by his security forces in nearly three weeks of protests.
"We extend our heartfelt condolences for all those who have lost their lives in the people's movement," Gyanendra said in the address, broadcast on state television and radio.
Nepal's three largest opposition parties welcomed the king's comments, and the sounds of celebratory shouts and whistles could be heard in the streets of Katmandu minutes after the 11:30 p.m. speech.
Gyanendra "has addressed the spirit of the people's movement" and met the demands of the main opposition seven-party alliance, said Ram Chandra Poudel, general secretary of the Nepali Congress.
The address effectively handed power back to elected politicians hours before the largest planned protest yet, with hundreds of thousands of people expected to attend.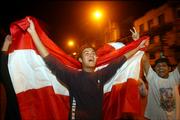 The seven parties planned to meet today to call off the protests, party officials said.
From now on, the seven-party opposition alliance will "bear the responsibility of taking the nation on the path of national unity and prosperity," Gyanendra said in his address.
"We are confident the nation will forge ahead toward sustainable peace, progress, full-fledged democracy and national unity," said the king, sitting rigidly in front of a blue backdrop decorated with royal emblems.
For much of the crisis, Gyanendra had remained silent and invisible, hidden behind the walls of his heavily guarded palace in central Katmandu and kept in power because of the loyalty of his army and police.
The reaction of Nepal's Maoist guerrillas, who have seized much of the rural heartland in a bloody decade-long quest for power and who had joined with the alliance to back the protests, remained unknown. However, their influence has surged with the protests, and they would almost certainly lobby for a role.
Copyright 2018 The Associated Press. All rights reserved. This material may not be published, broadcast, rewritten or redistributed. We strive to uphold our values for every story published.