Attorneys for a man accused of setting a deadly apartment fire want a judge to drop the murder and arson charges against him, on the grounds that they're unconstitutional.
To win a conviction under the state's "felony murder" statute, prosecutors don't have to prove that Jason A. Rose intended to hurt anyone by setting an Oct. 7 fire at Boardwalk Apartments. They just have to prove he set the fire.
But Rose's court-appointed attorney, Tim Frieden, argued in court on Monday that that violates the 14th Amendment, which guarantees due process and "equal protection" under the laws.
"It violates the presumption of innocence," Frieden told District Court Judge Jack Murphy.
A detective testified earlier this year that Rose admitted setting a box full of paperwork on fire outside the building the night of the fire. Rose's attorneys say that's not enough to show that Rose meant to burn the building - that, at best, it shows he started a fire and it got out of control.
"He has no intent to commit any felony," Frieden said.
But Assistant Dist. Atty. Amy McGowan argued that Rose told police he wanted to see part of the building burn and that he changed his story several times about how he initially set a railing outside the building on fire.
McGowan said the concept behind the "felony murder" law was well established.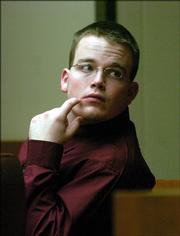 "Essentially, you don't get to call it an accident," she said.
Rose is charged with three counts of murder for the deaths of Kansas University student Nicole Bingham, electrician Jose Gonzalez and social worker Yolanda Riddle. He's also charged with aggravated arson and eight counts of aggravated battery for people who suffered burns and broken bones while running or jumping from the blocklong apartment building in the 500 block of Fireside Drive.
Judge Murphy said he would rule on the motion to dismiss at a later date. Rose is scheduled to stand trial Sept. 18 and remains in jail with bond set at $500,000.
Frieden also is asking for more evidence, including training records of the detectives who interviewed Rose.
Murphy on Monday gave Frieden 30 days to give notice of whether he plans to use a defense of a "mental disease or defect" at trial. Rose, a former foster child who had moved out on his own shortly before the fire, has conditions including attention-deficit disorder, a learning disability and post-traumatic stress disorder, according to testimony.
Boardwalk Apartments Fire
More on the Boardwalk Apartments Fire
Copyright 2018 The Lawrence Journal-World. All rights reserved. This material may not be published, broadcast, rewritten or redistributed. We strive to uphold our values for every story published.