Walking with his star pupil during a recent practice, Santa Fe Trail track and field coach Lucas Boss pointed to a waiting reporter and offered words of encouragement to freshman Jodi Mundy.
"There's going to be a lot more of this," Boss said. "You better get used to it."
Less than two months into her high school track career, Mundy didn't worry about paying her dues before making an imprint with the Chargers. She's already established school records in the 100-, 200- and 400-meter dashes, and bettered the final of those three again Saturday when she finished fifth at the storied Kansas Relays.
Thus far, she's handled the growing media spotlight with the same approach that's led to her success on the track - short and sweet.
Are you surprised at how quickly you've achieved the level of success you have?
Yeah. I knew I was going to do well coming in. But I didn't know I was going to do this well.
What were your goals coming into the season?
I was going for the records. Those were my goals - and I did it the first meet - I got one of them.
How much of a confidence builder has it been for you to have such a good start to your career?
It's pretty big. I didn't think I would come in and already do this well, being a freshman.
You had the chance to run in three events at the Kansas Relays. How will the competition of such a marquee event help you the rest of this year?
It will push me and help me get better times throughout the year.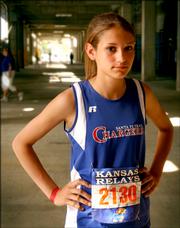 Which event is your favorite, and why?
The 400, because I was good at it in junior high and I've liked it ever since, I guess.
Which of the records are you most proud of?
The 400, because it's what I liked all through junior high and everything.
Now that you've already reached your primary goal, what are your goals for the rest of the season?
My goal is to place at state - freshman year.
Do you keep an eye on what everybody else is doing in Class 4A to see what you need to do to make that happen?
Yeah. I check and see their times to see what I have to do better.
Your brother, Lorenzo, finished as the runner-up at 140 pounds at this year's 4A state wrestling tournament. Do you talk to him about what it takes to compete at a state level and what to expect?
Not too much about it really, but he keeps pushing me. My family keeps pushing me to do good.
What do you think has made you so fast? Is it genetics? Training?
I did cross country, the first sport of the year, and that helped a lot.
Cross country and track are very different sports.
But it built up my muscles in my legs and just got them stronger.
Are you excited about what the future might hold not just for this year, but the next three years?
Yeah. I could win state next year.
Do you have any concerns that you're maybe peaking too early in your career?
No, I think I can get better each year. Hopefully.
Copyright 2018 The Lawrence Journal-World. All rights reserved. This material may not be published, broadcast, rewritten or redistributed. We strive to uphold our values for every story published.