Miami — Dwyane Wade arrived at the arena Monday night with a freshly shaved head, a first for the dapper superstar.
"It's the playoffs," Wade said of his new 'do. "I don't want to be worried about how I look."
Whatever the reason, Wade looked wonderful again for the Miami Heat.
Playing despite a sore calf, Wade hit a spinning jumper with 1:04 left to halt a frantic Chicago rally, then blocked Ben Gordon's layup 38 seconds later to help the Heat beat the Bulls, 115-108, and take a 2-0 lead in the best-of-seven Eastern Conference first-round series.
Jason Williams and Shaquille O'Neal each scored 22 points for the Heat, with Wade getting 21 points, seven assists, five rebounds and four steals. Miami held a 20-point lead in the third quarter and saw it trimmed to four with 1:15 left, but Wade's heroics down the stretch ensured the Heat wouldn't suffer an epic collapse.
"We played at a real high level again," Heat coach Pat Riley said. "Tremendous amount of energy, spirit and ball movement, but we didn't finish. That disturbs me and it should disturb our players after working so hard and playing so well."
Antoine Walker - who played the first 40:20 without a rest, filling in for the suspended Udonis Haslem - added 17 points and 10 rebounds for the Heat, who also got 12 points from James Posey and 11 from Gary Payton.
Andres Nocioni led all scorers with 30 points - on 13-for-15 shooting - for Chicago.
Former Kansas University standout Kirk Hinrich had 17 of his 29 points in the fourth quarter for the Bulls, who will play host to Game 3 on Thursday night.
"We made it interesting again at the end," Bulls coach Scott Skiles said, "but pretty much got dominated again from beginning to end."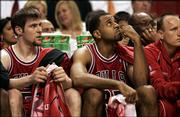 The Bulls allowed 111 points or more four times in the regular season. The Heat now have done it twice in this series, and shot 52 percent on Monday.
Walker scored off an offensive rebound with 8:12 left, giving Miami a 102-84 lead - and a two-game series lead seemed all but certain.
Five minutes later, those prospects were precarious, at best.
"Any team in this league, when they're down 10 or 20, they're going to make a run no matter what time of the game it is," Williams said. "It's just part of their scheme. They never give up."
Hinrich hit three straight jumpers - a personal 7-0 run - to get the Bulls within 102-91 with 4:52 left, and he scored four more points in what was a 13-2 Chicago burst that cut Miami's lead to 104-97 with 3:00 left.
Wade found Walker for a layup at the 2:46 mark, and hit a jumper 59 seconds later to push Miami's lead back to 108-99. Once again, the Bulls weren't done: Hinrich scored, and after Wade missed from the same spot he'd hit from one possession earlier, Nocioni hit a three-pointer with 1:15 left that got Chicago within four.
But Wade scored on the next trip, Nocioni threw the ball away on Chicago's next possession, and Miami could soon exhale.
"We're supposed to be a defensive team. We just didn't have it on that end tonight," Hinrich said.
"It's not over. They took care of their home court. Now we have to go home and take care of our home court."
No one need remind Chicago how a 2-0 series lead guarantees little; the Bulls blew a two-game lead in the first round against Washington last season, dropping the next four games.
But recovering is a daunting task; the Bulls have prevailed only once in 14 previous playoff series after starting with two losses.
The Heat have taken 2-0 series leads on five other occasions, and won them all.
"We have to go up there and try to get the first one," Wade said.
Copyright 2018 The Associated Press. All rights reserved. This material may not be published, broadcast, rewritten or redistributed. We strive to uphold our values for every story published.