Not thinking in the classroom could get Free State High softball player Kayley Lane in trouble, but doing it on the field has been putting opposing pitchers in harm's way.
The Firebirds' cleanup hitter went a combined 6-for-6 with a walk in the team's two victories Monday at Holcom Sports Complex - a 6-3 victory over Shawnee Mission West and a 11-1 run-rule win over Leavenworth.
"Lately, I've been thinking a lot more when I'm hitting, and I just kind of cleared my mind and hit the ball," Lane said.
Lane scored five times had two RBIs - and she knocked in the run that instilled the 10-run rule against the Pioneers.
"She's a pretty matter-of-fact player," FSHS coach Pam Pine said. "But she's had a little problem when she starts thinking too much."
Rose Hull - a starting freshman - enjoyed knocking in her teammates, too, going 4-for-6 and plating four runners.
Hull had a two-out, two-run double that put the Firebirds on top of Shawnee Mission West. In her next at-bat she drove in another runner with two outs and helped the Firebirds clinch their first victory over the Vikings in four years.
Starting pitcher Summer Mulford spotted the Vikings three runs in the first inning off two Hannah Somers errors.
But Somers made up for those dropped balls with two RBIs in the game and went 3-for-3 with two doubles.
Photo Gallery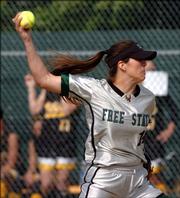 Lady Firebirds in double header
"Hannah dropped two but came back and hit amazingly, and I had also dropped one, so I felt like I had to come back," Hull said. "So it was kind of like the, 'If you don't help out one way, you've got to help out the other way.'"
And it's not just the underclassmen that are helping out in one way or another.
"On some of my hits I listen to one of the older players - Livi Abney - like I've got her on my mind, and that's the confidence that helps me pull it through," Hull said. "Those juniors and seniors really step up and help me with that."
Hull said the Firebirds' ever-growing cohesion helped their rallies.
"They just surprise me every day," Pine said. "They come out and work hard ... play together and that's what we did. ... Everything just jelled, and it went our way today."
Against Leavenworth, big rallies made it easier for sophomore starting pitcher Catherine Smith, who gave up a run on three hits and struck out seven.
"With these wins, I get more confidence each time, and that really helps," Smith said. "Then, that always gives me insurance to know that if anything happens I don't have to worry about it. So it's good to have insurance runs."
The Firebirds will hope to continue their hot streak - after a week off - before facing Lawrence High on Tuesday.
Free State 6, SM West 3
SM West 300 000 0-3 8 2
Free State 103 020 x-6 10 4
W-Summer Mulford. L-Sara Chew.
Free State 11, Leavenworth 1, 5 inn.
Leavenworth 001 00-1 3 2
Free State 430 31-11 13 2
W-Catherine Smith.
Copyright 2018 The Lawrence Journal-World. All rights reserved. This material may not be published, broadcast, rewritten or redistributed. We strive to uphold our values for every story published.