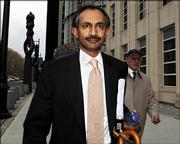 New York — Sanjay Kumar, the former CEO of Computer Associates International Inc., and another former executive pleaded guilty Monday to obstruction of justice and securities fraud charges in a massive accounting scandal at the business software company.
Kumar and Stephen Richards, its former head of worldwide sales, had been accused in a 2004 indictment of engaged in a widespread scheme to falsely inflate the company's quarterly earnings by backdating contracts.
According to the indictment, Kumar was so involved with adding revenue to a financial quarter even after it closed that he flew to Paris in July 1999 to finalize a deal and personally signed a contract that had been backdated.
The indictment also charged that executives instructed salespeople to complete deals after the quarter had closed and "cleaned up" contracts by removing time stamps from faxes.
Richards pleaded guilty to the same charges in federal court in Brooklyn.
Both remain free on $5 million bond while awaiting their Sept. 12 sentencing.
Copyright 2018 The Associated Press. All rights reserved. This material may not be published, broadcast, rewritten or redistributed. We strive to uphold our values for every story published.