"Mama."
For five weeks, Shadoe Barton's family had waited, hoping and praying. For five weeks, Shadoe had been in intensive care, undergoing nine surgeries. For five weeks, she hadn't spoken.
And then, on March 30, came her first word.
"Mama."
Five weeks earlier - on Thursday, Feb. 23 - Shadoe, a Kansas University freshman, was on her way from Lawrence to Tonganoxie, her hometown, planning to later judge a forensics tournament in Lansing. As she neared Reno, her car veered to the left on the highway and went into a watery ravine, where it landed upside down.
She was extricated from the car and flown by air ambulance to the University of Kansas Hospital in Kansas City, Kan.
Shadoe suffered two skull fractures, dissected carotid arteries and strokes.
For weeks, Shadoe's family was at her side. Because of her head injuries, doctors kept her in a drug-induced coma.
Then came March 30.
Doctors asked Shadoe whether she knew who was in the room with her.
Though her first word was spoken through a speaking valve inserted into her trachea, Shadoe said "Mama," referring to her mother, Twen Barton.
Doctors also asked Shadoe what her name was, as well as that of her mother and her father, Harold Barton.
Shadoe's first word left Twen Barton speechless.
"I cried," she said. "Big baby. It doesn't take much."
The words signaled a breakthrough in Shadoe's recovery. Before she spoke, her only communication came through nodding her head, usually to answer whether she was in pain.
Since then, Shadoe has progressed quickly. On April 10 she was transferred to the Mid-America Rehabilitation Center in Overland Park. Soon after, her feeding tubes were removed and the teen began eating for the first time in six weeks. She had a hankering for pizza.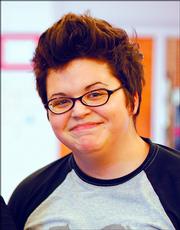 At the scene
A familiar hand grasped Shadoe's shortly after the car landed in the ravine.
Jodi Bowersox called 911 on her cell phone and then walked down to the car to comfort Shadoe. Bowersox stayed with her until paramedics arrived.
"I don't know that I did much," Bowersox said. "I sat there and held her hand. That's about it."
When Bowersox approached the car, she didn't know who was inside until a man who had arrived before her mentioned Shadoe's name.
"There's only one Shadoe in the area," Bowersox said.
Bowersox said she knew Shadoe well because her son, Tristan, was in her class at Tonganoxie High School and was involved in forensics with her. Fellow Tonganoxie resident Bob Koontz also stopped to help. Koontz's son, Andy, was also in Shadoe's class.
Bowersox said she had been traveling behind Shadoe, who was following a dump truck and started to pass it. But a car was in the oncoming lane, Bowersox said. Kansas Highway Patrol reports showed the ravine in which Shadoe's car landed was about an 18-foot drop-off from the highway.
When Bowersox stood near the car, which was upside-down, she realized how dangerous the accident had been.
"As flat as that car was," Bowersox said of the roof of the Dodge Neon, "it was amazing that she was alive."
Road to recovery
Shadoe fought an uphill battle in the ICU.
In addition to the skull fractures and the dissected carotid arteries, Shadoe suffered a broken left arm and nose and was bleeding internally.
In the first days after the accident, an infection spread through Shadoe's blood. She had fevers as high as 106 degrees for about three days. She suffered a stroke in the right side of her brain, which in turn affected the left side of her body.
"The doctors thought that Shadoe would be paralyzed on her left side," Twen Barton said. "She does have limited movement in both her leg and her arm, but we're hopeful with rehab that she will walk again."
A week ago, with assistance, Shadoe took her first steps. Her father said she was determined to make substantial strides.
After walking about 75 feet, using a shopping cart for stabilization, Shadoe took a three-minute break and then logged 60 more feet.
"She felt great, but she was tired," Harold Barton said.
Two mini-strokes on the left side of Shadoe's brain have slowed her communication skills. Diagnosed with dysphasia, Shadoe has difficulty expressing herself verbally.
"That will get better as her brain continues to heal," Twen Barton said.
Power of prayer
Throughout most of Shadoe's stay at KU Hospital, she was in critical condition.
According to her mother, the power of prayer saw Shadoe through.
From Tonganoxie to Europe, people have kept Shadoe in their thoughts and prayers, Twen Barton said.
Tonganoxie Christian and United Methodist churches have included Shadoe in their prayer chains. Through a friend of Shadoe's aunt, the 18-year-old is on a prayer chain in England. Those prayers have helped make the recovery special in her mother's eyes. And, she said, the family is thankful for the community's support.
"It has been inspirational, God's miracle's at work," Twen Barton said. "The family wanted to share our story with the community to help others realize the power of prayer and that miracles do exist.
"In addition, we are hopeful that our tragedy may help inspire someone else in need."
On Easter Sunday, a religious holiday synonymous with families gathering for food and fellowship, the Barton family was no exception.
Shadoe's family ordered food from an Italian restaurant and had dinner together at the hospital.
"She requested fettuccine Alfredo," Twen Barton said.
- Tonganoxie Mirror reporter Shawn Linenberger can be reached at (913) 845-2222.
Copyright 2018 The Lawrence Journal-World. All rights reserved. This material may not be published, broadcast, rewritten or redistributed. We strive to uphold our values for every story published.