So much for the last-inning whammy. Good-bye, dreaded diamond hex.
Kansas survived a late scare and held off No. 2-ranked Texas, 1-0, in Big 12 Conference softball Sunday at Arrocha Ballpark.
"This proves we're over our seven-inning curse, for sure," KU pitcher Serena Settlemier said.
Settlemier was referring to a pair of heart-wrenching walk-off losses at Texas A&M; and to Saturday's 1-0 loss to the Longhorns on a seventh-inning home run.
"It's about time a break went our way," KU coach Tracy Bunge said. "I definitely think it was time."
That break occurred in the first inning when UT pitcher Meagan Denny struggled with her location.
"Denny was great," Bunge said of the Longhorns' sophomore right-hander, "but she made some mistakes, and we took advantage."
Walks to Settlemier and Nicole Washburn sandwiched a single by Jessica Moppin - KU's lone safety of the day - and brought freshman Stevie Crisosto to the plate with two outs.
Crisosto worked the count to 2-and-2, then took the next pitch on her right shin, forcing in what would be the game's only run.
"I'm willing to get hit to bring in a run," Crisosto said, smiling.
KU had two more baserunners in the third when Settlemier was hit by a pitch and Destiny Frankenstein walked, but this time Denny enticed Crisosto to pop to second to end that threat.
Photo Gallery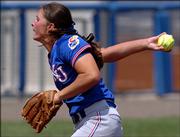 KU softball vs. Texas
Meanwhile, Settlemier was on cruise control. The fifth-year senior right-hander was perfect through 41â3 innings, thanks in part to a leaping stab of a line drive by Moppin at second in the fourth and Frankenstein going deep in the hole to throw out a runner to start the fifth.
"We had to play some defense," Bunge said, "and we did."
Chez Sievers' solid single snapped Settlemier's no-no, but Sievers was forced at second by Rachel Cook who, moments later, was thrown out trying to steal by catcher Tiffany Craner.
Bunge opted not to send Settlemier out for the sixth, replacing her with Kassie Humphreys, Saturday's tough-luck loser.
"It looked like they were beginning to get the bat on the ball against Serena," Bunge said, "and I didn't want to wait until she got in trouble to make the switch."
Humphreys breezed through the lower end of the Texas order in the sixth, but Desiree Williams opened the seventh with a single to set the stage for the dramatic conclusion.
Tina Boutelle forced Williams at second, bringing up Amber Hall, who had homered against Humphreys on Saturday. Hall fanned this time, but Megan Willis walked and then Humphreys plunked Sievers to load the bases.
That brought Cook to the plate and Frankenstein to the mound to try to calm Humphreys.
"If you ask my infielders," Humphreys said, "they'll tell you my hands were shaking."
Yet Humphreys shook off the shakes and caught Cook looking at a called third strike to record her third save and preserve Settlemier's 15th win.
"Kassie came right after that kid," Bunge said, "and finished her with a great screwball."
Sunday's defeat was only the fifth in 50 games for the high-flying Longhorns who still lead the Big 12 with an 11-2 record. The Jayhawks (27-21 overall, 6-7 Big 12) will travel to Nebraska on Wednesday, then go to Oklahoma next weekend.
Copyright 2018 The Lawrence Journal-World. All rights reserved. This material may not be published, broadcast, rewritten or redistributed. We strive to uphold our values for every story published.