Spring cleaning is a daunting task.
Yet Katie Bolt-Goeke, owner of Go Get Organized, had no idea that a tornado would do the job for her in May 2003.
"We were out of our home for 15 weeks, but we lived at the Holiday Inn Express," she says of her family. "You learn really quickly which stuff you need and what you just like having around."
It was a turning point for the Lawrence resident, who had helped so many friends and acquaintances reduce clutter but still struggled with the problem herself.
"When people came in to my house and saw my piles of stuff in my office, and not all of it caused by the tornado, I thought, 'Is this the life I wanted to live?'" she says.
The clinical social worker now offers systems organization, "staging" for real estate sales and other services. Bolt-Goeke also presented a session March 23 at Talbots, 646 Vt., on one of the most troublesome spring cleaning zones: the closet. Among her suggestions:
¢ Take three boxes with duct tape or lids to your closet. Mark the boxes "gone," "maybe" and "donate."
¢ Starting with hanging clothes, begin to sort your clothes by color and type. (All pants together, all blouses together, then sort within those categories by color.)
¢ Move off-season clothes in your closet to the back or to a place that is out of your line of sight.
¢ Pull out all clothes that are stained or torn, that you didn't wear last year or during the season just passed, that you don't love or you don't look gorgeous in, and that is not one size smaller or one size larger than you are now (even if you love it).
¢ Place the stained or torn clothes in the "gone" box. Place the did-not-wear and the off-sized clothes in the "donate" box.
¢ What remains can be purged further for "maybe": Duplicates of items such as white T-shirts, for example. Store the "maybe" box away for a month and see whether you missed any of the items.
Bolt-Goeke recommends doing the same the next day with shoes, bags and scarves, then another day for sweaters and folded clothes.
Alison Ogden, Talbots manager, said the audience was appreciative of the tips.
"It was definitely helpful," she said. "Doing a little bit at a time, maybe 10 minutes a day, makes the project seem less overwhelming."
The buddy system
Facing a monumental task like cleaning a closet is what Cheryl Miller, life coach in Lawrence, says is the hard part: how to get started.
"Don't do it alone," she says. "People get overwhelmed. Get started with a clutter buddy on the phone. Say we're going to start at 10 o'clock and we'll call in an hour to report our progress.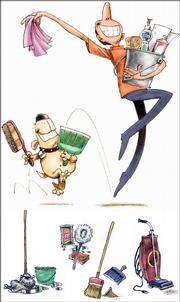 "Or invite a friend to help declutter the kitchen, and then go to the friend's to declutter theirs. It's amazing how much you can help somebody else because you don't have the attachment issues."
Those issues, Miller says, stem in part from valuing a great deal.
"We have a cultural message to buy more, spend more, so we have a huge clutter problem," she says. "When we see an opportunity to buy something cheap, we go for it."
Miller also is a wellness expert, and part of her focus on reducing clutter stems from the associations certain rooms have with personal health. For example, the bathroom can be a creative sanctuary while people bathe or shower, and it's usually the starting point for getting ready for school or work.
"You look around the bathroom and think, 'I have 45 kinds of lotion, 13 kinds of shampoo.' It's unappetizing to look at all the clutter, but the thinking is, 'I paid for them, even though I hardly use them,'" she says.
Miller recommends containers to organize the bathroom.
"I do a lot of containering. I put my conventional medicines in one tub and alternative medicines in another," she says. "I label them. I put teeth-related things in one tub. Everything's easy to find."
'Don't keep stuff'
Miller identifies the bedroom as a nurturing space to keep clutter-free, so anxiety won't interfere with sleep. And she says a tidy kitchen is key to personal health, too.
"The kitchen relates to wellness lifestyle, because if your counters are cluttered with pots and pans, you won't want to be in that room, and you won't end up cooking and eating at home," she says.
And identifying better health or another goal can set the stage for spring cleaning if you've put it off so far.
"We have to re-establish values," says Bolt-Goeke of Go Get Organized. "Values like having more time available or more financial resources available. That means don't keep stuff. Eliminate things that are eating up time in your life."
Having spent months at a hotel with her husband and daughter after the tornado, Bolt-Goeke has her values in order.
"We learned how little we could actually live with," she says.
Storing clothes for the season
¢ Empty the pockets of all the clothes you're going to be putting away, then launder or dry-clean everything, even if you've only worn it once. You'll avoid allowing stains to set before you next wear your clothes and eliminate smells that could attract bugs.
¢ Storage should be cool, dark and dry. Garages, attics and unfinished basements are off-limits. You also can pay a cleaner about $20 to $30 to hold a season's worth of clothes.
¢ Invest in moth repellent, ideally made of cedar.
¢ Group clothes by fabric. Protein fibers - silks, wool, fur, suede and leather - require the most attention because they are food for bugs. That's why they should be kept apart from plant fibers, such as cotton or rayon, which don't require as much vigilance.
¢ Heavy garments, as well as cashmere sweaters and beaded or sequined gowns, should be folded, with muslin or acid-neutral tissue paper to prevent creases. Canvas or muslin boxes are ideal, though pricey, because they allow air to circulate. Cloth garment bags are preferable to plastic for long-term storage and are essential for leathers and furs, which may crack or break off if kept in plastic.
Source: realsimple.com
Looking for help?
Lawrence life coach and wellness expert Cheryl Miller offers free newsletters on organization and wellness through her Web site, www.cherylmillerville.com.
Miller also co-moderates Lawrence FreeCycle, a Yahoo group of more than 1,400 members, where Lawrence-area residents post items available for free, ranging from baby furniture to old lawn mowers. Miller says it's a great place to list items purged in a spring cleaning.
Information is available online at www.lifeinlawrence.com.
To learn more about Katie Bolt-Goeke's services, call 842-5628 or visit her Web site, www.gogetorganized.org.
Copyright 2018 The Lawrence Journal-World. All rights reserved. This material may not be published, broadcast, rewritten or redistributed. We strive to uphold our values for every story published.