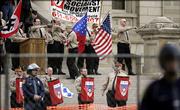 Lansing, Mich. — A group of white supremacists demonstrating outside Michigan's Capitol was far outnumbered by 500 protesters who were screened by metal detectors and kept separate by 6-foot-high chain-link fences.
About 75 people from the Minneapolis-based National Socialist Movement were met with taunts from the protesters in what police described as a generally orderly event.
State and city police reported 16 arrests, mostly for disorderly conduct and other misdemeanors among hundreds kept at bay from the neo-Nazis. Two people were taken to a hospital for minor injuries and a third was treated at the scene following scuffling between protesters and neo-Nazi supporters, police said.
No members of the neo-Nazi group were arrested or injured. They were bused into the rally from an undisclosed location and returned there later with police assistance.
Police said rocks were thrown at officers as protesters left the Michigan rally and windows of a police van were smashed, but no police injuries were reported. About 500 law enforcement officers kept the peace.
Security was high after violence broke out at recent National Socialist Movement events in Ohio and Florida.
Copyright 2018 The Associated Press. All rights reserved. This material may not be published, broadcast, rewritten or redistributed. We strive to uphold our values for every story published.