The Rev. Leo Barbee says he trusted God when he first organized Victory Bible Church, 1942 Mass., on April 24, 1983.
Now that he looks back after almost 23 years, he still gives credit to God.
"I came here to try to be an example in the community," Barbee said. "Love God, love Christ and love people."
Church members appreciate him so much that they have used this entire weekend to thank their founding pastor for his leadership.
Barbee will turn 68 this month, and he doesn't see his work slowing down any time soon. He has served as a chaplain for the Kansas University football team for 18 years, as the basketball team's co-chaplain for the past three seasons and has been active in Harambee Black Christian Fellowship in addition to his church role.
His wife, Juanita Anne, died Aug. 3, 2005, after 45 years of marriage, but Barbee says he still has a strong support system, including six children, to help him with his ministry.
"I'm more excited now about the work of the Lord than when we first began," Barbee said Saturday evening during a celebration for him in the Centennial Room of the Kansas Union.
His family, friends and church members read letters of appreciation from others and told stories about the pastor during the party.
After the church's 10:30 a.m. service today, a special appreciation service is planned for 3:30 p.m. at the church.
Barbee's congregation members didn't have to think long to express their feelings about the man.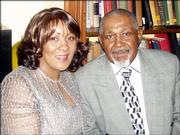 "He exudes the Christ-like qualities that we all aspire to attain. That's why people are drawn to him. He lives like he believes whether it's popular or not," said Kristie Conway, a church member for five years.
"He always was very warm and welcome. We felt like we were part of the family when we came to the church," said Alicia Cardona, a member for six years.
Barbee says he enjoys how his congregation in Lawrence has become multi-ethnic.
"We look at people as people, not in terms of culture," he said. "I'm grateful for our church and the impact we've had in the whole community."
Before coming to Lawrence, he served at churches in Joplin, Mo.; Wichita Falls, Texas; and the Kansas City area.
"I believe God has ordered our steps from the time we first came here," Barbee said.
Copyright 2018 The Lawrence Journal-World. All rights reserved. This material may not be published, broadcast, rewritten or redistributed. We strive to uphold our values for every story published.