Italian designers working since the 1960s have created some unusual pieces of furniture. One of the best-known is Ettore Sottsass. In the 1960s, he designed office equipment, including a famous red plastic typewriter. By the 1970s, he was making plastic laminate furniture. In the '80s, he founded an Italian company with the unexpected name Memphis, which created colorful, unconventional designs using plastic and other new materials. The designs were so odd that the company was a financial flop, but today some of the furniture seems less frightening and is being used by collectors in modern settings. Sottsass' 1981 Carlton bookcase has been pictured in many books. It is made of multicolored and patterned plastic laminate, and some of the shelves slant, making them not at all practical to hold books. But the large piece dominates a room and can even be a room divider to be filled with books and pottery. It is one of the icons of '80s design - not appreciated by every collector or decorator, but important to the history of design.
Q: I found an old, round, tin canister with the word "coffee" printed on the outside. One end is flat with a removable lid, and the other is open and cone-shaped. The odd thing about it is that when you set the tin down on its flat end, "coffee" is upside down. Can you figure out why?
Your canister was probably the top to a 1900 wall-mounted household coffee grinder. At least two companies made coffee grinders that used canisters like yours to hold the coffee beans above the grinder. The lid on the top was removed to pour in the beans, and the cone at the bottom fit into the grinder. That way, the word "coffee" was right-side up. Both the Fanner Mill - probably made by Bronson and Walton Co. of Cleveland - and Arcade's No. 45 mill - made by Arcade Manufacturing Co. of Freeport, Ill. - used your type of canister.
Q: My aunt, who is 95, still plays the organ her father had owned since before she was born. What's unusual about the organ is that it looks just like a piano. However, you pump the pedals as you would on any organ, and it sounds like an organ, too. The label on the back reads, "This 7-octave grand organ style C, dark oak, #4456, H. Lehr Co., Easton, Pa." Can you tell us anything about the instrument?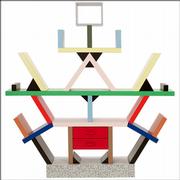 A: Horace Lehr established H. Lehr & Co. in Easton in 1890. It claimed to be the first company to make piano-cased reed organs. By 1899, Lehr's factory was producing 1,200 organs a year. Lehr also manufactured standard pianos and coin-operated player pianos until about 1927.
Q: I own an old, black cast-iron pencil sharpener. It's 13 inches long. At one end, there's a turning wheel with a wooden handle. A pencil can be inserted in the other end. In between, there are two rods supporting the mechanism where the tip of the pencil fits. That way, you can sharpen pencils of different lengths. The gold printing on the machine reads "Favor-Ruhl, New York, Pencil Pointer, Jupiter N, Made only by Guhl & Harbeck, Hamburg, Germany."
A: Favor-Ruhl was an artists' supply store headquartered in New York City. Guhl & Harbeck was a German manufacturer of sewing machines, typewriters and pencil sharpeners. The original Jupiter model was patented in 1897. The Model N, whose first patent was granted in 1906, was advertised for sale in the United States from 1910 to 1939, when World War II began. Jupiter pencil sharpeners in excellent condition are among the models wanted by collectors.
Q: Shortly before my father died in 1926, he bought my mother a pair of glass candlesticks marked "Made in Czechoslovakia." They are a traditional style, 10 inches tall and have a beautiful orange luster. Are they valuable?
A: Czechoslovakia became a country in 1918, so your father bought the candlesticks after that. Glass and ceramics marked "Made in Czechoslovakia" are usually well-made and are popular with collectors. Department stores and giftware shops all over the United States imported dishes and other items from factories in Czechoslovakia. Your candlesticks would sell for about $200.
Tip
To clean an enamel or graniteware pan, fill it with water. Add the peel of an apple or some cut-up fresh rhubarb. Boil the mixture for 15 minutes.
Copyright 2018 The Lawrence Journal-World. All rights reserved. This material may not be published, broadcast, rewritten or redistributed. We strive to uphold our values for every story published.