GoldZone 2 came to an anti-climactic conclusion because the winning 400 relay team was too good for the rest of the field, so the anticipated showdown between Maurice Greene and Justin Gatlin never materialized.
The day began in more entertaining fashion, away from the crowd and the sunny skies inside the Booth Family Hall of Athletics, where a group of men who ran for late great KU track coach Bill Easton gathered to dedicate a plaque in his honor and to reminisce about their days on the cinder track.
Each man was asked to sum up his old coach in one word that wasn't used by any of the others in the group. Most followed the rules.
"Awesome," Wes Santee said of Easton.
John Jackson: "Competitor."
Larry Stroup: "Teacher."
Louie Stroup: "Taskmaster."
Lowell Janzen: "Father figure. Can you make that one word?"
Harold Hein: "Intensity."
Ray Wyatt: "Demanding."
Al Frame: "Monomaniac."
Jerry McNeal: "Mentor."
Dick Blair: "Leader."
Grant Cookson: "Honorable."
Tom Rupp: "Dad II."
Photo Gallery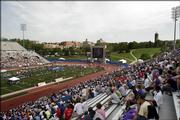 2006 Kansas Relays: Day 3 and GOLDZONE
Santee recalled how one fall Easton used the fact the Stroup brothers were identical twins to his advantage to try to show KU's freshman cross country runners they had a lot of improving to do.
"He had one of them run with them and had the other sneak out by Potter Lake, and they switch halfway without the freshmen knowing it happened," Santee said.
The twins remembered the time Easton said he was taking only one of them to the Texas Relays, so they had to race each other to see which one deserved to go on the trip.
"We were running as fast as anybody then, so it kind of surprised us we had to do that," Louie Stroup said.
The outcome: "We tied," Louie said. "So he left us both home."
Later in the day, during GoldZone 2, Santee and Jim Ryun, who ran for Bob Timmons at KU, talked about days gone by, the days when they ran on a cinder track at KU.
Photo Gallery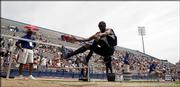 2006 Kansas Relays: Day 3 (extra photos)
Ryun said he had been "squeezing in a little morning run" in Washington to prepare to defend his team's title in the House of Representatives division of an annual three-mile run. Ryun, sons Ned and Drew and daughter Catharine, a triathlete, are joined by a Ryun staffer in the event that is scored in team fashion, a la a cross-country race.
"I used to run the four-minute mile," Ryun said. "Now, it's the four-minute half-mile."
It's a shame the mile can't be the featured event on an annual basis. One reason it's not is, the world's best sprinters are the sport's best talkers. They know how to generate interest and sell tickets. The announced crowd of 26,211 was the second-largest in Kansas Relays history.
Still, Santee and Ryun enjoyed watching the mile from their bleacher seats. Halfway through the race won by Daniel Mania of Cowley County CC in 4:02.46, Santee predicted the winning time would be 4:04. Afterward, Ryun wondered if the winning runner had a better time in him because he covered the final lap so swiftly. Sophomore Colby Wissel was the top finisher from KU with a personal-best 4:05.19, good for third place.
"It was a good race," Santee said. "And how about this crowd."
Copyright 2018 The Lawrence Journal-World. All rights reserved. This material may not be published, broadcast, rewritten or redistributed. We strive to uphold our values for every story published.