Kansas City, Mo. — Mike Wood helped put an end to another long losing streak for the Kansas City Royals.
It's a situation he is all too familiar with.
Emil Brown drove in three runs, and Wood worked 41â3 innings as the Kansas City Royals beat the Cleveland Indians, 11-5, on Saturday night to snap an 11-game losing streak.
Wood (2-0) allowed just an unearned run and three hits. He was the winning pitcher Aug. 20 when the Royals broke a franchise-record 19-game losing streak at Oakland.
"That losing streak we had was bad," Wood said. "We went through it last year for the 19 games. We just had to end it again. Someone ended it. No doubt it didn't need to go any longer. The offense just came out firing."
Brown was more than happy to end the 11-game streak, which matched the third-longest in club history.
"We can't win them all, but geez it seems like we've been losing them all," Brown said. "It is kind of a weight off of us a little bit. We've had so many games that have been so close. I'm tired of hearing about how we stink."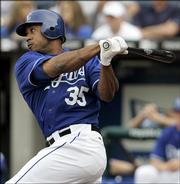 Doug Mientkiewicz doubled, tripled and drove in two runs for the Royals (3-13), who won for the first time since a 4-3 victory over the World Series champion Chicago White Sox on April 8. Kansas City was outscored 78-32 during the skid.
Joe Mays, who is 0-7 in 22 career appearances against the Indians, did not allow a hit until the fourth inning but failed to get through five. With his early departure, the Royals still do not have a win from their rotation. Kansas City starters are 0-10.
Paul Byrd (2-2), a former Royal, gave up seven runs and six hits with two walks in three innings for Cleveland.
Notes: Royals RHP Runelvys Hernandez, who is 1-2 with a 10.67 earned-run average at Triple-A Omaha, will be recalled Wednesday.
Copyright 2018 The Associated Press. All rights reserved. This material may not be published, broadcast, rewritten or redistributed. We strive to uphold our values for every story published.