One pitch. That was it.
"One hanging curve ball," Kansas University softball coach Tracy Bunge said.
Texas right fielder Amber Hall hammered Kassie Humphreys' hanger over the right-field fence with two outs in the seventh inning, and the Longhorns edged Kansas, 1-0.
An Arrocha Ballpark-record crowd of 1,217 watched as Texas living legend Cat Osterman and KU's Humphreys hooked up in an as-advertised duel in the circle.
Osterman and Humphreys went in ranked Nos. 1-2 in Big 12 Conference earned-run average (0.32 , 1.27) and opponents batting average (.070, .152).
Humphreys surrendered a first-inning dunk single to Texas leadoff hitter Desiree Williams, who was doubled up when Hall lined to shortstop Destiny Frankenstein, then didn't allow another Longhorn to reach until Hall's rocket.
"Kassie pitched super. She was tremendous," Bunge said. "One pitch was the difference. Amber Hall deserves a lot of credit, too."
Hall, a left-handed hitting senior, admitted she didn't even know what kind of pitch she hit for her fifth home run of the season.
"Not really," she said. "I went up there, and I wasn't thinking about anything. As long as there's nothing on my mind, that's why I do the best."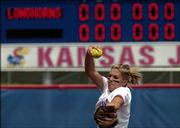 Meanwhile, it was another day at the office for Osterman, a senior southpaw who operates on a higher plane than mere mortal pitchers.
"Cat has such tremendous ball movement," Bunge said. "Nobody moves the ball in and out of the zone like that kid. Her ERA is almost zilch for a reason."
Osterman, who averages nearly 16 strikeouts a game, fanned 13 Jayhawks while improving her record to 29-1. Every KU batter struck out at least once.
Still, Kansas managed a pair of singles - opposite-field grounders between first and second by Val Chapple in the fourth and Serena Settlemier in the fifth.
Each safety led off an inning, but Chapple was picked off second after being sacrificed, and Nettie Fierros, running for Settlemier, was thrown out trying to steal. Thus Osterman faced the minimum 21 batters.
At the same time, Humphreys faced only one over the minimum while suffering a hard-luck defeat similar to a one-run loss at Texas A&M; when she surrendered a seventh-inning walk-off home run.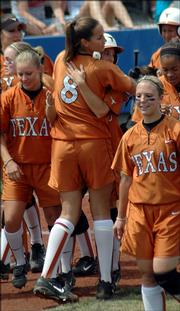 "I really felt we were going to win today," Humphreys said. "That's what hurts the most. I just didn't think it would go down like that."
Humphreys, a junior right-hander from Glendale, Ariz., said she missed the target against Hall.
"I really wanted to get it in, and I didn't do that," she said, "and she hit it so good."
Hall's shot was only the fourth homer Humphreys has given all season and, ironically, she still has surrendered fewer homers than any other regular Big 12 pitcher, including Osterman, who has been touched for five.
In all likelihood, Settlemier, who ranks third in the Big 12 in ERA (1.36), will pitch in today's noon series finale against UT's Meagan Denny, who ranks fifth in ERA (1.58).
Nevertheless, it isn't out of the question that Bunge would use Humphreys and UT coach Connie Clark would go with Osterman again.
"Both coaches have a decision to make," Bunge said. "They have a good No. 2 pitcher, and we do, too."
Texas' record climbed to a lofty 45-4, 11-1 in the Big 12. Kansas is 26-21 overall and 5-7 in the league.
Copyright 2018 The Lawrence Journal-World. All rights reserved. This material may not be published, broadcast, rewritten or redistributed. We strive to uphold our values for every story published.