Wichita — D.J. LaChapelle and his buddies were mostly just having some fun at Tom Cruise's expense when they created a Web site dedicated to poking fun of the Hollywood star.
LaChapelle and his friends started TomCruiseIsNuts.com even before Cruise made news by loudly and wildly proclaiming his love for fiancee Katie Holmes and criticizing Brooke Shields and others who depended on psychiatry and medication.
"It's all about tapping into the zeitgeist of the moment," said LaChapelle, 40, who moved to Wichita from Washington, D.C., in October, after his wife took a job with Koch Industries.
LaChapelle works from home on his day job, as head of High Frontier Productions, an Internet consulting company that creates Web sites for nonprofit foundations.
But it's his more popular sideline, named Amalgamated Worldwide Enterprises, that has garnered the most publicity.
"We make fun of anything and everything that comes across the computer or TV screen," said his college roommate and partner in parody, Jim Jonas, who lives in Denver.
The two had an earlier pop culture hit shortly after the Iraq war began when they created the site WeLoveTheIraqiInformationMinister.com.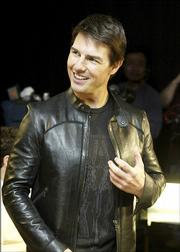 So they decided to try again. After cobbling together graphics and quotes from Cruise, they added quotes from others about the movie star's antics.
Within hours of the site launch, it was getting thousands of hits. Within two weeks, about 2 million visitors had checked it out.
"We had no idea. It was such an inexplicable fluke," said Jonas, 41. "We had no expectation that we could capture lightning in a bottle again."
The site's popularity has not made a lot of money. AWE sells T-shirts and coffee mugs with Cruise quotes and spends that money to pay for server space.
They've tried other joke sites - WeLoveArnold.com and ExterminateTomDelay.com - that were less successful. But the Cruise site has been mentioned in electronic and print media across the country.
"It was supposed to be a joke between friends, and all of a sudden we're on CNN and Fox News, said a third AWE partner, Ethan Andrews.
Andrews, 31, works for LaChapelle at High Frontier, but he's also responsible for the snarky comments on the site.
"(Cruise) won't keep quiet, so there's a never-ending gold mine of material," LaChapelle said.
"We have no malicious intent toward the guy," he added, "but you can't have it all. You can't be Mr. $20 Million Celebrity and not be made fun of when you're saying crazy stuff."
Copyright 2018 The Associated Press. All rights reserved. This material may not be published, broadcast, rewritten or redistributed. We strive to uphold our values for every story published.