Behind the pounding bass and songs of drum group Thunder Hill, members of American Indian tribes from here and elsewhere had a chance to return to tradition Saturday.
"It's a way for all tribal nations to come together," said Jon Red Corn, a member of the Kansas University First Nations Student Assn.
The association held its 18th annual KU Powwow Saturday in the Robinson Center gymnasium on campus.
This year's celebration featured headlining dancers from California and Nebraska, along with dancers, food and support from students and faculty from Haskell Indian Nations University.
Drum groups performing both northern and southern styles played as members of more than 50 different American Indian tribes danced and took time to ask other tribes about life in their area.
"It's a social time," organizer Jancita Warrington said. "It's a chance for our people to get away and come back to what's important."
For Warrington, the chance for different tribes to don traditional garb and celebrate a collective native culture is worth the event's yearlong planning process.
This year's powwow tested the resources - and patience - of Warrington and the First Nations Student Assn.
The usual advertising push sends posters and other literature to other native events across the country, where different tribes can make plans to attend.
This year, that process didn't happen because of both the organization and KU, Warrington said.
KU cut short the funding the organization expected, she said, reducing staff and leaving those working with the organization scrambling for resources.
Student government paid for some of the costs, and the chancellor's office chipped in as well. But it wasn't enough to put on the kind of event that Warrington said the group was used to putting on.
"We could put on some cheap pow-wow, but this is what it takes to get that nationwide diversity," she said. "That's the quality we're trying to bring."
Then, just a week before the event, they found that the Robinson Center gymnasium would suddenly cost $1,000, rather than the $350 price tag in past years, she said.
"I felt very disrespected," Warrington said.
Photo Gallery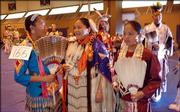 Powwow
But troubles aside, tribes from all over the country - including some from Canada - arrived wearing the intricate colors and patterns of their tribes, ready to swap stories of culture past and present.
The songs and dances, similar on their face, spell details of each tribe's history and heritage, Red Corn said. His Osage tribe's dance, called a Straight Dance, mimics the motions of tracking down an enemy.
For others, from Lawrence resident Steve Byington's Choctaw/Delaware tribal dance to the steps of the Assiniboine Tribe, each movement expresses a different American tale.
"Each dance has a specific story, a memory behind it," Red Corn said.
Copyright 2018 The Lawrence Journal-World. All rights reserved. This material may not be published, broadcast, rewritten or redistributed. We strive to uphold our values for every story published.