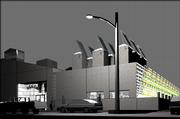 Van Go Mobile Arts is rapidly closing in on its goal of raising $1.3 million to renovate its facility and expand its services.
That capital campaign got a major boost in January when Van Go, 715 N.J., announced that the J.E. and L.E. Mabee Foundation of Tulsa had awarded it a $170,000 challenge grant.
"It's probably the biggest grant we've received at Van Go. It was a huge, huge coup for us. We have had our sights on the Mabee Foundation ever since we started talking about the renovations five or six years ago," said Lynne Green, Van Go's executive director.
To receive the grant, Van Go must raise an additional $128,000 by Jan. 10, 2007. The purpose of a challenge grant is to provide incentive for enlisting the support of a broad base of donors.
"I have no doubt this is going to come about. We're going to do whatever we have to do to raise the remainder, if I have to go door-to-door. There's too much at stake; this is over 15 percent of our overall campaign," Green said.
"When a foundation says that it will gift that money, I see (the challenge grant) as a must-do. We can't lose this money."
Van Go is an after-school and summertime program that employs 14- to 21-year-olds from low-income or at-risk backgrounds to work on arts projects. Many of their works are on display in part of the Van Go building.
In addition to paying minimum wages, Van Go teaches participants a variety of job and life skills, ranging from showing up to work on time to finding an apartment.
How to help
To learn more about the fundraising efforts of Van Go Mobile Arts, 715 N.J., contact Heather Hoy, development director, at 842-3797, or Susan Tate, chairwoman of the Building Futures Campaign, at 218-3385.
Visit the Van Go Mobile Arts Web site at www.van-go.org
Since the beginning of the fundraising campaign - Van Go staff and supporters took it public at its annual Adornment Show last November - the organization has received donations from more than 250 families, businesses, the city of Lawrence and the state of Kansas, according to Green.
"The community has recognized and embraced our vision to serve more Douglas County teens through our arts-based employment program in a more comprehensive way. We are confident the community will help us meet this challenge," she said.
At the Adornment show last year, Van Go announced $717,800 in mostly private donations had been raised for the project.
Van Go supporters Mark and Marsha Buhler, along with Susan Tate, co-chair the public fundraising campaign.
Van Go staff learned on Jan. 10 that the program had received the Mabee challenge grant.
"We were elated to get the news. In the world of grant receiving, you're always scared if you get a small envelope in the mail. But sure enough, the letter said, 'You were awarded :'" said Heather Hoy, Van Go's development director.
In early April, she said that the campaign had passed the $1 million mark
The challenge grant means a lot to Van Go.
"We consider it an honor to receive this expression of confidence from the Mabee Foundation," said Brad Chindamo, Van Go's president.
"The Mabee Foundation is a strong advocate for improving the lives of children in need, and it recognized the importance of our efforts to serve teens in our community."
In July 2004, Van Go received an 18-month award of $247,600 in Community Service Tax Credits from the Kansas Department of Commerce.
Van Go attracted $495,200 in donations from the community in response to this award that was completed Dec. 31.
Room to grow
Van Go will use the money it raises in the capital campaign to renovate the 12,000-square-foot garage and warehouse-style building, where it has operated since 1998.
The first renovation will cover most of the building - 9,000 square feet - to allow more and better services to be provided. The remainder of the building will then be renovated, including the main rooms Van Go is currently working out of.
The renovation will provide work space for the JAMS (Jobs in the Arts Make Sense) program to serve additional high-need teenagers in the community, a full-time retail gallery space, community space for meetings and events, and a full kitchen to expand Van Go's "Locally Grown JAMS," a nutritional education program.
A new program, "The Arts Train," also will begin once the renovation is complete to provide transformational experiences to young adults ages 18 to 21.
Lawrence architect Dan Rockhill has prepared the architectural plans for the project.
Van Go serves about 90 youths each year. It hopes to double that number when the renovation is complete, Hoy said.
Once the renovation is finished, Van Go plans to offer more arts and job training, including woodworking and carpentry, computer skills and possibly welding.
Initially, Van Go had hoped that work could begin in June and that the project would be completed by September 2007.
"It looks like now the renovation won't start until fall. We are dealing with the Burlington Northern (Santa Fe Railway) on our parking lot. We are in the process of purchasing it from them," Hoy said.
Honored at White House
It certainly hasn't hurt the fundraising efforts that Van Go received national recognition in January during a White House ceremony.
Van Go received a 2005 Coming Up Taller Award for its JAMS program. First lady Laura Bush presented the award to Green, who started JAMS in 1999, and Faith Darnell, a JAMS participant.
"We feel like we won an Academy Award. No one from Van Go goes anywhere that they haven't been congratulated. People were walking in off the street to write checks (to support Van Go) after the article in the Journal-World came out about what had happened," Green said.
"We've gotten the most incredible feedback about the White House award. Everybody who works here has sort of become celebrities over that. I think the award has also served to establish the organization, to give it further credibility. It will definitely help us in the last fundraising push toward our goal."
Van Go's program for at-risk teens was one of 17 organizations to receive the award, which comes with a $10,000 grant. The recognition is given to after-school arts and humanities programs across the United States that encourage educational achievement.
Bush presented the honor on behalf of the President's Committee on the Arts and Humanities.
The award money has gone into a savings account for JAMS, according to Green.
Copyright 2018 The Lawrence Journal-World. All rights reserved. This material may not be published, broadcast, rewritten or redistributed. We strive to uphold our values for every story published.