It might be the most fragrant traffic mishap in Lawrence history.
About 8:35 a.m. Friday, a truck carrying 19 tons of "biosolids" - basically fertilizer made of treated human feces - spilled much of its contents along a roughly two-block area of Haskell Avenue. The mess closed traffic on Haskell for two hours between 11th and 15th streets, and it caused a stench that floated throughout the neighborhood and into downtown Lawrence.
"The tailgate was open on the thing, and it was just dripping out," said Israel Bermudez, who watched the incident from his yard at 13th and Haskell.
Bermudez joked that he might be able to file a lawsuit for "pain and suffering."
"It stinks," he said.
The truck had been hauling waste from the city's wastewater treatment plant at 1400 E. Eighth St. to be used as fertilizer on a cornfield near Pleasant Grove, said Carl Janssen of NutriJect Systems Inc., the project's general contractor. Janssen said he loaded the truck and checked the latches before it left the plant.
But the truck started leaking shortly before the driver, Sue Deese, of Oskaloosa, turned south from 11th Street onto Haskell Avenue. Deese said she didn't realize there was a problem until a Lawrence Police officer pulled up behind her and stopped her.
The first thought that went through her mind was a two-word phrase that is both predictable and unprintable.
"If they could put you in jail for air-headedness, I'd have a life sentence," she said. "We're gonna grow corn right in the middle of Haskell Avenue, y'all. It's plenty fertilized."
Deese and Janssen estimated that between one-third and half of the truck's contents spilled. Crews from a private contractor and some city vehicles were called to the scene to start scraping the waste up off the pavement and hauling it away.
Photo Gallery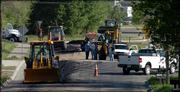 Biosolids spill
A "biosolids" spill in east Lawrence blocked traffic along Haskell Avenue this morning.
"All of the city time is going to be billed back to the contractor for that," said Jeanette Klamm, who coordinates the city's treated waste "residuals."
One of the people watching the cleanup was 15-year-old Cody Bonham, who was riding along with a Lawrence Police officer for the day to learn about a possible career in law enforcement.
"I guess I didn't really think about this kind of thing happening to police, that they had to do this kind of stuff," he said.
What are biosolids?
The U.S. Environmental Protection Agency describes biosolids as "the nutrient-rich organic materials resulting from the treatment of sewage sludge."
City employee Jeanette Klamm said the waste spilled along Haskell Avenue on Friday did not present a health risk, other than the possibility that a driver might slip on it if it wasn't cleaned up.
"It's gone through treatment ... You've got little microbes that eat that waste for their food source. It's kind of like the equivalent of taking gasoline out of oil," she said. "You can't just take raw sludge and take it out to the fields. It has to be treated through digestion and stabilized."
The city plant on East Eighth Street processes roughly 7,000 tons of waste per year. Three times per year, the city pays private contractors to come and haul the "biosolids" away to be spread on fields as a fertilizer.
13th and Haskell
Copyright 2018 The Lawrence Journal-World. All rights reserved. This material may not be published, broadcast, rewritten or redistributed. We strive to uphold our values for every story published.