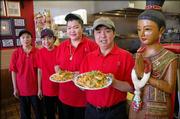 Lawrence may have lost a Subway at Sixth Street and Kasold Drive, but diners can still "eat fresh" in the same location.
Thai-Siam restaurant, in a converted Subway Restaurant, opened in July 2004. Despite the owners' passion for their product and numerous rave reviews, many locals are still discovering the small restaurant.
"That's our secret place," said Lisa Kreidler about herself and fellow Kansas University senior Lindsey Lang. "I love the food, and the atmosphere is A-plus. It's not trying too hard, and the chicken Pad Thai is the best."
More than just the old Subway's tagline still applies to Thai-Siam, which serves both Thai and Chinese meals. It has the hard yellow booths, fresh ingredients under a glass sneeze guard and meal preparation as you watch.
"We like the setup," said Dustin Srisutiva, who owns the restaurant with his wife, Jeab.
He said many customers appreciate the openness of the food preparation.
"Our vegetables are all fresh - you can see it all at the bar. Sometimes a restaurant can look clean and nice, but you never know what's going on in the kitchen," he said.
But there's a downside to the Subway arrangement.
"When customers come in, they think it's fast food, so they expect it faster," he said. "We could put it in the microwave and hand it to you, but we have to cook it to order."
On light nights the wait is about 15 minutes, but during busy hours it can be up to an hour, especially for carryout orders, he said.
Dustin said he monitors all food preparation, taking care that it lives up to his standards of quality and authenticity.
If you go
Thai-Siam's most popular dishes are Pad Thai, Panang Curry and Green Curry. Its extensive menu includes traditional Thai and Chinese dishes.
The Pad Thai rings in at $6.95, with beef, chicken, pork or tofu. For shrimp, add $1.
"We cook different than anybody else in town," he said. Thai-Siam ads in the yellow pages tout the "Best Pad Thai in town." According to Dustin's own taste tests, that's the case.
"It's because we cook the same way as in Thailand," he said. "And customers love our Chinese food, (prepared) in California style. Most Chinese restaurants in town cook New York-style Chinese food, which is very different."
He said California-style has more flavor, from using different spices.
Dustin and Jeab are both Thai, but Dustin is half Chinese. He adds the Chinese flavor to the menu, which adds to the couple's distinct cooking flavors. He said there's a little of both cultures' seasonings in all the dishes.
With two children, ages 9 and 11, the Srisutivas make an effort to keep Thai culture a part of their family's life. Shortly before opening Thai-Siam, they took a four-month trip to Thailand.
"I want them to keep the culture, but not have a restaurant," he said of his son and daughter. Calling himself "just a cook," he has higher hopes for his children's futures.
"I put it in their heads every day to be a doctor," he said. The rest of his family members in Thailand are all doctors and dentists, but he dropped out of college in California. "I'm a bad boy," he said with a grin.
The Srisutivas moved to Lawrence from Parsons two years ago. They ran a Chinese restaurant there for 13 years but started shopping for locations in larger towns after their restaurant burned down.
Dustin said he crosses his fingers that his son and daughter will go to KU. The family loves Lawrence.
"We love it - they've got KU, it's not too big, not too small," he said. "When we ask our kids if they want to go back to Parsons, they say, 'No, no no!'"
Though they had to start from scratch on the decor of Thai-Siam, the restaurant isn't lacking in authentic fittings. Guided by its Subway-yellow theme, many small and large pieces of framed art on the walls are deftly placed, in geometric-looking patterns.
"When I was small, I dreamed of doing interior design," said Dustin, who did the arranging himself.
The obligatory Thai king and queen paintings hang beside the door, and a waving gold cat and skinny Buddha sit atop the front counter. Dustin said they got most of the pieces when they were back in Thailand, and they have more in storage. The extra pieces could someday decorate a second Thai-Siam location in Lawrence.
"A lot of customers say we should open another one," Dustin said. He said the prospect was probable, but not in the near future.
Copyright 2018 The Lawrence Journal-World. All rights reserved. This material may not be published, broadcast, rewritten or redistributed. We strive to uphold our values for every story published.