Union Army Cpl. James B. Pees survived - twice.
He ate from a cup and sometimes mixed in dirt to make his food last longer during his one-year stint at the Confederate Andersonville Prison in Georgia.
In his diary, he kept a monthly death toll of his fellow soldiers, which he added up to 13,062, from March 1864 to March 1865.
Then, after he was exchanged and freed from the notorious military prison camp in April 1865, Pees headed home to Ohio on the Sultana, a steamboat that turned out to be another death trap for Union soldiers.
The over-crowded boat sank in the Mississippi River, and between 1,400 to 1,700 soldiers died. The family's oral history suggests he hung on as long as possible to the boat.
When he was thrown into the water, Pees grabbed some debris and floated to safety with some others. He was badly burned but eventually made it to Cairo, Ill., and then home to Ohio in June 1865.
Shortly after that, he moved to Allen County, Kan., and lived the rest of his life in that area.
His great-grandsons, Richard Stitt, of Kansas City, Mo., and Dr. Jerry Pees, of Lawrence, know the significance of this story.
"We're all here because one guy was real lucky - James B. Pees," Stitt said.
"Occasionally, I'll take these out of the envelopes and hold them in my hand and just think 'that's my relative of 150 years surviving that damn squalor of a prison,'" Jerry Pees said. "I kind of connect back with the generations."
The cousins presented diary excerpts to members of the Sons of Union Veterans of the Civil War this week at the Watkins Community Museum of History, 1047 Mass. Pees had mailed the diary home before he boarded the Sultana.
Photo Gallery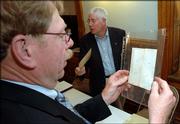 Civil War Veteran
The family did not find the diary until about 1970. It was in a box in his grandmother's attic, Jerry Pees said. The cousins and family members have worked to transcribe pages for several years.
James Pees enlisted in 1861 when he was 19 and served in the 2nd Ohio Infantry, Company D. An enlistment officer mistakenly spelled his name "Pees" from "Pease," and after the war he found it too difficult to get it corrected, Stitt said.
Stitt read several passages on Thursday, including a description of Pees' part in the Battle of Stones River beginning Dec. 31, 1863, in Murfreesboro, Tenn.
"Some shells came screaming through the trees," Pees wrote and later described heavy musket fire also surprising him.
He was eventually captured in September 1863 at Chickamauga, Ga., and after stints at a few military prisons, he was moved to Andersonville.
He worked in the kitchen among other jobs there.
"I have all the cornbread and molasses that I can eat for the last week," he wrote.
He also expressed sadness that so many of his military friends died of disease and were buried "now in the Georgia sand."
The audience members were impressed with Pees' descriptions and narrative considering many Civil War soldiers were illiterate.
"This one has a lot of richness to it," said Dennis Dailey, a Kansas University emeritus social welfare professor.
According to Iola Township Cemetery records, Pees died in June 1926. Stitt said he has been unable to find his grave.
In July 1864, soon after his Andersonville stay began, Pees wrote about the dire conditions.
"The water is very bad. The best we can get is rain water," he wrote. "I have not yet done anything I am ashamed of, but I guess I can wait a little bit longer."
Copyright 2018 The Lawrence Journal-World. All rights reserved. This material may not be published, broadcast, rewritten or redistributed. We strive to uphold our values for every story published.