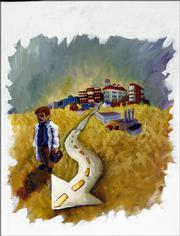 Even hospitals sometimes have to draw a line in the sand. And For Lawrence Memorial Hospital, Eudora has become that line.
The hospital in December announced a deal to buy 21 acres of prime development ground in the eastern Douglas County community to serve as the home for a future medical complex.
LMH leaders said the purchase was crucial to critical planning efforts because it put Kansas City area hospitals on notice that LMH wouldn't allow other health care providers to creep into the Lawrence market without a fight.
"I guess you could say that we're staking our claim to that important area," said Gene Meyer, LMH president and CEO.
Meyer said near-term plans for the property at the southeast corner of Kansas Highway 10 and Church Street included a medical office building that would house LMH-affiliated physicians.
But Meyer said the 21-acre site could grow into a much larger medical complex that would serve the growing K-10 corridor and attract patients from western Johnson County.
"We have left our options open by buying 21 acres," Meyer said. "Hopefully there will be quite a bit of complementary development that can happen there."
Possibilities for other uses include office space for dentists, eye doctors and other health care professionals. Space for a pharmacy also is likely, Meyer said. Longer range plans could include an after-hours acute care center that could treat minor emergencies, though Meyer said that wasn't a certainty.
The community's lone physician said that would be a major improvement for the community.
"It is basically at least 20 minutes to any hospital from here, so I think that would really allow us to serve the community better," said Dr. Daniel Dickerson, who practices at the LMH-affiliated Eudora Family Care.
Dickerson's office - which also includes two nurse practitioners - would move to the medical office complex. Dickerson said the new location would provide the office the space to add new radiology and imaging services that patients currently must leave town to receive. He said there was also the possibility to add physical therapy services at the new medical complex.
Eudora Mayor Tom Pyle is excited about what the entire project can do for his town of about 5,000 people.
"There are a few things in life that are milestones, and I think this is probably one of them for our community," Pyle said.
Pyle said he expected the medical center development to help the community attract additional commercial development.
"This is going to entice corporations and business people to come in to town," Pyle said. "They like to be close enough to a hospital or health care so that they don't have to go 10 or 15 miles to get health care."
Pyle said he also thought the medical center would make the area more attractive for residential development because many people like to live in neighborhoods with easy access to health care and also because future employees of the medical center may want to live in Eudora.
"It just really will be another step up for the community," Pyle said. "I don't know how anybody could do more good than to bring a good hospital into a community."
Meyer said construction at the site could begin in late 2006 or early 2007. But first, hospital officials plan to take the next six months to do a detailed study of the site and develop a master plan for the property. Meyer said full development of the site could take 15 to 20 years.
Part of the timeline likely will depend on what other area health care providers do. LMH officials are keeping a close eye on potential development by three Kansas City area hospitals. St. Luke's has purchased property along K-10 near Woodlawn, Olathe Medical Center has purchased K-10 property in De Soto, and Shawnee Mission Medical Center has purchased property along Kansas Highway 7 just north of K-10.
Meyer said new locations for health care providers were becoming important because patients were demanding convenience.
"People are busy," Meyer said. "Convenience is a bigger issue all the time. With so many services being delivered on an outpatient basis today, locating those services closer to where people live makes a lot of sense.
"We would love to be the provider of choice for eastern Douglas County and parts of western Johnson County. This (project) should send the message to everyone that LMH is truly a regional provider."
Copyright 2018 The Lawrence Journal-World. All rights reserved. This material may not be published, broadcast, rewritten or redistributed. We strive to uphold our values for every story published.