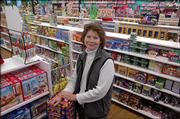 Operating a retail business is no walk in the park. And if the business relies heavily on holiday sales, surviving the off-season can be like running a marathon, requiring planning, patience and endurance. Despite the usual challenges and the added competition from a growing online market, however, several successful local businesses relocated last year, expanding their operations and their profits. But their work is not yet over.
October is the main event for businesses that sell costumes, candy and the other necessities for Halloween. With careful organization, it can make the whole year worthwhile. For Kyle Billings, owner and operator of Fun & Games, every year is a new opportunity.
"Halloween is our main (season)," Billings said. "Our costume business is well more than half of our year's business. October alone could come close to 40 percent of our year."
With so much riding on just four weeks, the need to service as many customers as possible is obvious. Last June, Fun & Games relocated to a much larger space on the second floor of the Antique Mall, 830 Mass. Billings has been planning to move for several years.
"We needed a change," he said. "We needed to be able to expand our business. We were kind of at a stale point that we couldn't break free from. We just needed more room to spread out, to have our stuff out year-round."
The hardest part Billings remembers was the moving itself.
"I thought the hardest thing would be to get people to know that we moved. That seemed to be really easy. A little bit of advertising, and it seemed that people just knew," Billings said. "We moved in June, so we lost a week. : July picked up, August was pretty good, and by September we had beaten previous years' sales. October was a record year for us, too."
Billings relies on a faithful clientele who supports Fun & Games throughout the year, coming to buy costumes and accessories for other events. (School plays create steady demand.) But he is conscious of an alternate strategy that capitalizes on the seasonal rush, that of the temporary consignment stores. Often organized by national companies, temporary shops compete vigorously with local shops for the niche market, and for Fun & Games, sometimes the competition is painful.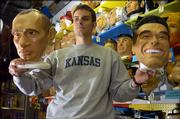 "It kills us. It makes it that much harder to just break even. (A seasonal consignment shop) takes such a chunk out of Lawrence each year, and it hurts a lot of businesses, especially those that rely on Halloween season for their main source of income. A place comes, steals Lawrence's money and runs off with it. It makes it really tough for us to stick around," Billings says.
But for Terry York, operator and co-owner of the Spirit Halloween shop that has opened for six weeks before Halloween since 2004, the temporary approach is just another strategy. He has seen his store serve the community.
"Everybody that came in was happy we were there because they were going to Kansas City to get their Halloween costumes," says York, formerly a Lawrence resident for 10 years. "That may be the best way to judge. They'd say, 'Oh, we're so happy you're here! We hope you come back next year!'"
Follow the money
It's hard to deny that a portion of the store's revenue makes its way outside the community: York now lives in Loveland, Colo., and his financial partner for the Lawrence franchise resides on the East Coast. But the true validation is in the sales, and York has persevered in his Lawrence operation. The challenges he faces are different than that of a year-round establishment.
"That we're a seasonal store, the biggest challenge is trying to find help, especially at an entry level. What I did in Lawrence and Topeka was to go through the state labor service," York says. "It was a great resource for me."
York also relocated his business for the 2005 Halloween season, but his motives for moving were different than his competitors'.
"(Finding space) is another challenge, since it's a seasonal store. A lot of landlords don't want to do a short-term lease. There's not a lot of property available in Lawrence."
Just like Fun & Games, York's Spirit Halloween franchise saw a healthy growth last season, which he attributes to careful advertising and a strong demand.
"We had a good sales increase; I would say it was more successful this year. The first year we were very pleased, and this year was even better," York says. "There's a good market out there for it."
Christmas bounty
The December boom is a boon for many stores, and heavy sales are often posted across the board. Even corporate juggernauts depend on the sales boost from end-of-the-year holidays.
Kent Johnson, executive team leader of Hard Lines for the Lawrence SuperTarget, has managed the "In Season" department of the store in the past, and he knows the amount of work required to make it all run smoothly.
"The December days are nearly double. It's not uncommon to do almost twice as much business," says Johnson, a Nebraska native and a nine-year employee of Target.
When your customer count increases from 4,000 to 8,000 per day (as Johnson estimates it does for Target), the logistics of maintaining high-quality service multiply quickly.
"There's a large workload that's involved with seasonal merchandise, especially at the beginning and the end," Johnson says. "When those areas are transitioning, it is the main purpose of the building. It's not uncommon to have all of our executives get out of their areas : we all go to 'In Season.'"
On Target, as usual
But if everything is prepared in time, the reward can be vast. This year, Johnson reports, was especially fruitful for the Lawrence store.
"We had a very, very good Christmas season," he said. "It was one of - if not the best - months (yet). In December we had one of our highest increases from last year. That was very encouraging. We were able to bring our year-to-date figure up considerably just in December. We saw a nice spike just by averaging in the month."
For some small-business owners, competing with a retail behemoth like Target may be daunting, but not for Margaret Warner, co-owner of The Toy Store, which also relocated in 2005. Another heavily seasonal business, Warner estimates 60 percent of her business is in the last six weeks of each year. She's learned many tricks to keep her customers close during the rest of the year, however.
"It just takes a lot of management and budgeting. I've done this for 30 years, and I've learned how," Warner says. "The other strategy we have is always to make our store a fun destination for families. I really want to be a hands-on, 3-D experience. We have all kinds of craft camps during the summer months where we invite children to come in and make craft projects inside the store."
Profitable move
The Toy Store has been long overdue for a move, Warner admits. They have been looking for several years. The biggest challenge was finding a large enough space on Massachusetts Street - they finally moved into the space formerly occupied by Everything But Ice.
Since the move, business has been booming. Last December was a record year for The Toy Store. Warner was thrilled with the success.
"It was very strong," she says. "It was exactly what we hoped."
Do big corporations cut much into the profits of smaller operations like The Toy Store? Warner hardly notices. She knows that just like other businesses, the secret to running a successful seasonal operation is hard work, dedication and providing for the customer.
"The Internet is our largest competitor. Our next biggest competitor is our store in Topeka! We're very much a niche market, but we're very strong in our brick and mortar store. I try to do what I do really well," Warner says. "This is my first love."
Copyright 2018 The Lawrence Journal-World. All rights reserved. This material may not be published, broadcast, rewritten or redistributed. We strive to uphold our values for every story published.