The Salvation Army still has a $2 million hill to climb to collect what it needs to build a $3.5 million shelter.
"We're certainly not where we'd like to be at this point," said Wesley Dalberg, Lawrence administrator for the organization.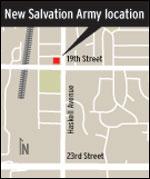 The Salvation Army plans to replace its existing home at 946 N.H. with a more expansive, two-building site southeast side of downtown. The facility will include space for sleeping quarters, a food bank, a gymnasium, a chapel, dining areas and other uses. It will be geared toward helping the homeless deal with substance abuse or other problems and find work.
That's a marked change from the current services, Dalberg said.
"Today it's a Band-Aid," Dalberg said. "Here's a bed. Here's a meal. That's what we provide right now ... That's not where we're headed."
The shelter's most recent hurdle came last month when questions arose as to whether the site should be rezoned as part of the Burroughs Creek Corridor Plan, which would change the site's zoning from industrial to office uses.
And Dalberg has met with residents in the neighborhood who have voiced concerns about the project.
Salvation Army leaders and others convened a special neighborhood meeting recently to reassure residents that the new facility will be different from the current one.
"We're going to do our best to deal with the issues that they have," he said.
Salvation Army leaders have tentatively agreed to put several promises in writing. This includes vows to never to house prison parolees in the facility, to create an advisory council with strong representation from the neighborhood, to never knowingly allow the facility to be a hangout spot, and to never knowingly allow illegal activities to take place.
Matt Tomc, president of The Woods on 19th Homeowners Assn., said residents in the area were continuing to watch the project carefully.
"We just want to make sure the land use that they propose is something that's consistent with the family homes in that area," he said.
Dalberg said there wasn't any real deadline for gathering the funds for the project. Construction is expected to begin in 2007.
He said he didn't expect a major public fundraising campaign, but the agency would be active. He expects to have events, such as a block party or carnival, to get acquainted with the neighborhood.
"We can't separate ourselves," he said. "That piece of property over on Haskell isn't an island. We want to be an important part of the community overall."
Copyright 2018 The Lawrence Journal-World. All rights reserved. This material may not be published, broadcast, rewritten or redistributed. We strive to uphold our values for every story published.