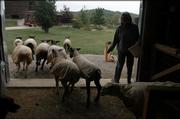 Lawrence-area farms are producing more than tomatoes and peppers.
They're also ripe with tourism dollars.
Local farms last fall organized their first Kaw Valley Farm Tour, an effort to open up their land to visitors who might not usually take in the rural experience.
"Our goal was people would come out, experience a good time and come back later and revisit the farms," said Bill Wood, agriculture Extension agent for the county. "We want them to become long-term customers."
The farm tour, which drew between 1,500 and 2,000 participants, is part of the state's effort to create an agritourism industry in Kansas.
More people are moving to urban areas, and tourism experts expect those people to have a renewed interest in returning to their roots.
And Douglas County is perfectly situated to cash in on the trend, said Janna Dunbar, agritourism program manager for the Kansas Department of Commerce.
"Being close to a large population base like Kansas City, Lawrence or Topeka gives people an opportunity to come out to these small specialty farms and have this local support," she said. "The audience we tell agritourism operators to shoot for is a 100- to 150-mile radius, or about a two-hour drive for a farm operation."
Last year's farm tour featured 16 farms from Overbrook to De Soto. Participants paid $10 per carload to go to the farms on a Saturday and Sunday.
Wood said area wineries especially had reported an uptick in business since the farm tour.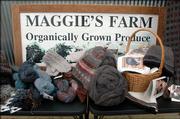 Talks already are under way to have the farm tour again this year, during the first weekend of October. Wood said plans were to expand the tour to two full days; last year's only was in the afternoons.
"Some people thought we had way too many farms," Wood said. "They couldn't visit all of them in one weekend."
Agritourism has been a new focus at the Department of Commerce since early 2004, when Gov. Kathleen Sebelius announced an initiative to strengthen efforts to bring tourists to farms and ranches. Agritourism providers now can register with the state to receive tax credits, limited liability insurance and help with marketing.
So far, 192 operations have registered. Dunbar said there were about 600 providers throughout the state, focused in three main areas: wineries, hunting/fishing and produce farms.
Local farms are starting to talk more about promoting the region for agritourism, said Karen Pendleton, co-owner of Pendleton's Country Market and chairwoman of the committee that planned the farm tour.
Recently, she said, farm owners have been talking about county zoning changes that could affect agritourism operations.
"It's created an awareness of what we need to do with visitors on our farms, and getting information out in an organized way," Pendleton said.
In addition to efforts at the Lawrence Farmers Market, farms produce an annual guide to area operations.
Wood said he thought there was room to better promote the area farms' efforts in the future.
"Of course," he said, "it takes dollars to advertise."
Copyright 2018 The Lawrence Journal-World. All rights reserved. This material may not be published, broadcast, rewritten or redistributed. We strive to uphold our values for every story published.