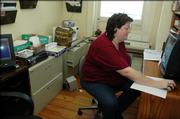 The phase-in of the federal government's new prescription drug program - known as Medicare Part D - has been a bumpy ride for Americans.
But Lawrence pharmacists have been doing whatever they can to help make the situation easier for their customers.
Martin Bredehoft, owner of Medical Arts Pharmacy, 346 Maine, has rendered assistance.
"I gave three talks (about Medicare Part D) at the American Legion building. I worked with the head person at the Douglas County Senior Center. I gave public talks through my church," said Bredehoft, who's in his 32nd year of work at the pharmacy.
"I've had many people who've come here, and I've sat down with individuals and families to discuss their options. I've gone to many people's houses, too. We have a huge clientele, a lot of them are elderly, and I've devoted a lot of time to walking them through these plans."
When some of his customers learn that they need a drug that isn't covered by their insurance plan, Bredehoft tries to find an alternative medication for them.
"We then call the physicians to let them know, and tell them what the options are that they have. We do that instead of our customers calling and trying to do that themselves," he said.
"We know the lingo; we help them out."
There are other pharmacists in town who have stepped up to help their customers navigate the complex new prescription drug benefit.
Mark Smith, owner of Orchards Drug, 1410 Kasold Drive, said his pharmacy was overwhelmed earlier this year with customers who had questions about Medicare Part D.
"Initially, we tried to help those who can help themselves by directing them to Medicare.gov (a Web site that provides information about Medicare health plans). I actually printed out the pages and showed them where you click. The ones who I did that for were most appreciative. They were the ones who were computer-savvy; most are not," he said.
For customers who needed more help, Smith would take down their medication list, then provide them with a list of the five most-inexpensive plans that might be suitable.
His hands were somewhat tied, though, because the federal government prohibits pharmacists from directing customers to a specific drug coverage plan.
"Then everything on the news was saying, 'Ask your pharmacist.' So you kind of lay it out there and say, 'Here are the top three plans for you - pick one,'" Smith said.
Tom Wilcox had yet another solution for assisting older customers.
Wilcox, owner of Round Corner Drug Store, 801 Mass., employs a woman to come in on Saturdays solely to help people resolve problems they're having with Medicare Part D.
Karen Parker, who worked for Wilcox for five or six years as a pharmacy technician, is now employed full-time by Lawrence-based Pearson Government Solutions.
Pearson, which operates a sprawling call and data center in the East Hills Business Park, is the prime contractor for 1-800-MEDICARE.
Parker's full-time job there is to answer the questions of people who call the help line for the federal program.
Wilcox said Parker has been coming in to his pharmacy once a week since last fall to help customers, on an appointment basis, with their questions.
"Karen's probably the most knowledgeable person in town. She had been working for me and doing Medicare Part B billing before she went to work for Pearson. Now she's trained in Medicare Part D, too," Wilcox said.
He estimated that Parker has been able to help hundreds of customers navigate the maze of Medicare Part D. (Just in Kansas, people have 41 plan options.)
"She has access to their records at the store, so she can call up their records and see what medications they're on," Wilcox said. "She has the whole enchilada."
Copyright 2018 The Lawrence Journal-World. All rights reserved. This material may not be published, broadcast, rewritten or redistributed. We strive to uphold our values for every story published.