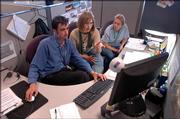 Since the federal government's new prescription drug program known as Medicare Part D began Jan. 1, things have not gone exactly according to plan.
The program, which allows Medicare recipients to align with a private insurance plan with the promise of lower drug costs, has created a wave of confusion and frustration among senior citizens. In Kansas alone, eight companies offer 41 insurance plans.
While millions of people across the country are wondering which plan is best, people in Lawrence are answering their questions.
Pearson Government Solutions, which operates a sprawling call and data center in the East Hills Business Park, is the prime contractor for 1-800-MEDICARE, a help line for the federal program.
Phone lines there have been busy as seniors and other Medicare-eligible Americans continue their search for consistent and worthwhile advice.
While Pearson officials say the terms of their contract don't allow them to go into specifics about the help line - such as the volume of calls received or the number of employees staffing it at any time - they confirm there has been a surge in the number of people seeking help.
"Yes, there was a big spike on that, (due to) the prescription drug program that's been in the news. We are the people who answer those calls and help people get lined up with the right program," said Mark Andrews, the Lawrence facility's human resources manager and site manager.
Pearson has beefed up its staffing to manage the increase in calls.
"There has been an employment spike" at Pearson due to the help line, Andrews said. "This work was initially supposed to be for a particular period of time, but it has expanded a little bit longer."
That has meant the additional hiring of temporary workers, the greatest number coming from Douglas County.
Pearson is the third-largest private employer in Lawrence, with 1,540 workers, according to the Lawrence Chamber of Commerce.
Pearson's 195,000-square-foot facility in East Hills is the company's largest center in the United States.
Pearson Government Solutions - a division of Pearson PLC, a London-based media conglomerate - has 5,000 employees in six countries, generating $500 million in revenue.
The Lawrence center handles more than 30 projects, including work for the U.S. Department of Education, the Equal Employment Opportunity Commission and the U.S. Bureau of Citizenship and Immigration Services (part of the Department of Homeland Security).
Issues being resolved
Pearson officials referred specific questions about the help line to Julie Brookhart, a public affairs specialist in the Kansas City regional office for the Centers for Medicare and Medicaid Services.
This federal agency administers Medicare and Medicaid for Kansas, Missouri, Iowa and Nebraska.
Brookhart confirms that the pace of calls from around the country to the prescription drug help line has been brisk.
"There are about 22 centers nationwide. The average speed of answering a call is nine seconds. The average handle time of each of those calls is about seven and a half minutes," she said.
"They're answering, on a daily basis, more than 70,000 calls (nationally). We get a report twice a day."
Callers pose a range of questions, but most of them are about the new Medicare prescription drug program, according to Brookhart.
"The customer service representatives (such as those at Pearson) have been trained, and they can actually walk a person through our online enrollment tools for choosing a Medicare drug plan," she said.
Customer service representatives are able to plug callers' personal information - such their Medicare identification number, address and ZIP code - into the enrollment tool.
Then it will automatically pull up on the screen the top three plan choices for the caller, ranked from least expensive to most expensive.
Customer service representatives can mail that information to callers so they can have it at hand when they're choosing which plan to enroll in. Or callers can be enrolled over the telephone, if they wish.
"If there's a need for Spanish-speaking customer service representatives, there's a prompt right up front. The call centers are available 24 hours a day, seven days a week. And it's free," Brookhart said.
"We do think 1-800-MEDICARE is a great service. We do know some of the issues that beneficiaries have experienced. They are being resolved. They are working out."
In-depth training
Pearson officials spent months ramping up hiring, emphasizing training and refining scripts and other resources to make the most of the 1-800-MEDICARE service, part of a contract granted two years ago by the federal government.
Employees working on the program receive specialized training, so that answers provided to callers are consistent and informative.
Agents are trained to take calls, listen to questions and then search the company's database - compiled under the guidance of Medicare officials - for appropriate answers.
Complicated matters are referred to a "second tier" of agents, who have more experience or expertise. Anything unable to be answered by that point is then referred to a reference desk, so that an answer can be formulated and relayed back to the caller.
But the Pearson facility handles much more than just the 1-800-MEDICARE line.
"We're really kind of the first contact, or the voice, for a number of federal agencies. We have the national contact center for the Equal Employment Opportunity Commission, so when you call the EEOC anywhere in the country, that call comes here," Andrews said.
"That's the way we are with a lot of federal agency work, contracts that we have. We're their customer service voice for the nation."
Eileen Cassidy Rivera, vice president of communications for Pearson Government Solutions in Arlington, Va., points to another important contract the company has.
"We started out 50 years ago doing student loan servicing for the U.S. Department of Education. Now we are designing, building and operating a very wide range of services that the Department of Education provides for college students who are seeking government aid," she said.
While Pearson's largest presence is in Lawrence, the company also has facilities in Phoenix; Coralville, Iowa; Corbin, Ky.; Chester and Arlington, Va.; and Washington, D.C.
And internationally, Pearson Government Solutions serves governments in the United Kingdom, Canada, Mexico, Argentina and Venezuela.
But Pearson officials often tout the Lawrence facility as the company's crown jewel, bringing visitors here as a way to capture more business.
"Lawrence is always very impressive to people, the size of it and everything," Andrew said.
He believes Pearson performs an important mission.
"When I finish up my day, I know that what we've done has helped people across our country," he said. "Every call that we receive is because there is a person needing some assistance to help make their lives better."
Copyright 2018 The Lawrence Journal-World. All rights reserved. This material may not be published, broadcast, rewritten or redistributed. We strive to uphold our values for every story published.